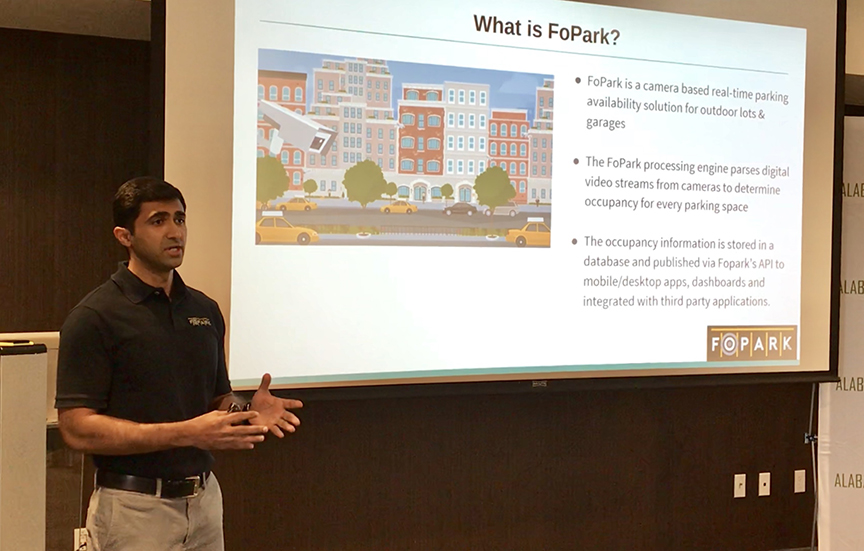 One team pitched affordable means to personalized non-medical homecare. Some pitched innovative means to find available parking spots in congested lots. Another introduced onlookers to a robotic tennis ball collector.
When Thursday's Auburn Regional Alabama Launchpad startup pitch competition ended, six of 11 companies impressed industry professional judges enough to advance and could compete at the April 4 regional finals at the Alfa Pavilion at Auburn University's Ag Heritage Park, where $100,000 and a berth into this fall's state competition are up for grabs. Judges will examine business plans further and eliminate two of the teams, trimming the April 4 final event to four teams.
Startups advancing include:
Beyond Home Care (personalized non-medical home care for elderly and disabled presented by Kelly Adams of Alexander City)
Tennibot (robotic tennis ball collector presented by of Haven Barnes of Auburn)
FoPark (a simplified parking management system presented by Sakthi Kandaswaamy and Parker Roan of Auburn)
Energy H2O (production of energetic, more healthy bottled water presented by Moses Weaver of Tuskegee)
InhiProt (treatment idea for those suffering with multiple myeloma presented by Auburn University Harrison School of Pharmacy professor Alexei Kisselev)
NanoXort (development of safer contrast agents for MRIs presented by Tareq Anani and Barry Yeh of Auburn)
Barnes, a software engineer at Auburn University's Ginn College of Engineering, said competitions such as Launchpad provide his team a chance to get ideas from and network with others.
"There's a lot of companies in the Southeast doing innovative things, in general," said Barnes, whose teammate, Tennibot founder and CEO Haitham Eletrabi earned an MBA from the Harbert College. Tennibot competed in the Harbert College's Tiger Cage pitch competition for startups in 2013. "This gives us the opportunity to see where other people are at and learn from their ideas," Barnes added. "We have made great connections at these competitions -- they were working on the kind of stuff that we needed, and visa-versa."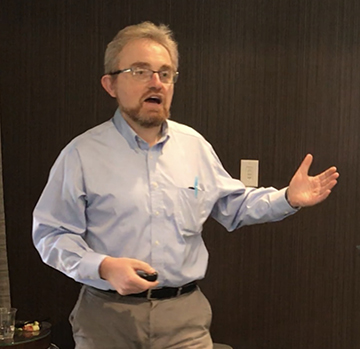 The Auburn Regional Alabama Launchpad was presented by the Auburn University Harbert College of Business' Lowder Center for Family Business & Entrepreneurship, the City of Auburn, Auburn Research and Technology Foundation, and the Economic Development Partnership of Alabama. BBVA Compass served as the event's title sponsor. The region is comprised of Lee, Tallapoosa, Macon, Chambers and Russell counties.
Each team received 10 minutes to present their respective business ideas, followed by questions from four judges, Boyd Stephens, founder of Netelysis, Frank Bratski, founder of ColumbusMakesIT!, Patrick Cox, President of B2 Partners, LLC, and John Marsh, principle at Marsh Collective.
What were judges looking for from the startups? Stephens said, "You can call it a business plan competition, or a pitching competition, but at the end of the day it's – can the idea make money?
"I look for a number of things: how cognizant they are of their market, how cognizant are they of their customers, and do they have their ear to the ground on customer problems? Do they have a problem that's worth solving? Do they have data to validate that? What I really spend time on are those financials. The financials are the blood of a business operation."
Other startups presenting Thursday included:
Proximity Biosciences, LLC (Joonyul Kim of Auburn): creating functional molecules used for therapeutics and diagnostics
SoleLine, LLC (Berk Anadur, Gibson Wang and Frank Nguyen of Auburn): a storage and display solution for footwear
SWIGRO Additive Manufacturing (Zack Freeman and Rick Bradshaw of Auburn): offering innovative solutions to 3-D printing
Lil' Monster Box (Michael Minkler and Vlad Saveljeus of Seale, Alabama): producing returnable and reusable toy boxes for toddlers
JC Golf Info (Dave Jennings, Jeff Kirk and John McCullough of Alexander City, Alabama): creation of an innovative online golf scouting service for college golf coaches and prospective college golfers