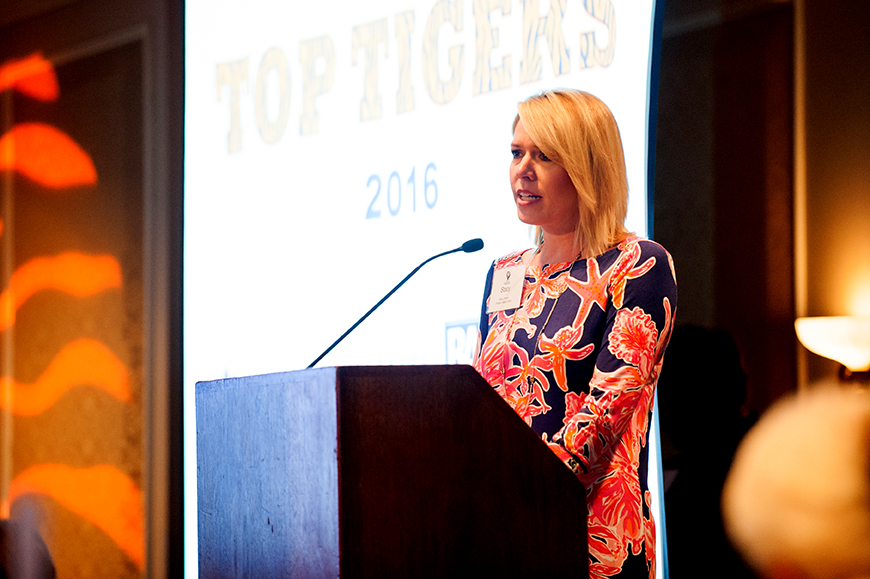 Where did "Nutty Nana," "Jazzy Julie," and "Sassy Scotty" get their names? Dozens of successful Auburn alumni and business owners will hear the story at a luncheon in their honor on March 29 at the Auburn University Hotel and Conference Center.
Chicken Salad Chick founder Stacy Brown will be the keynote speaker for this year's Top Tigers luncheon, an annual event that recognizes the fastest-growing companies founded, owned for led by Auburn University alumni. Presented by the Raymond J. Harbert College of Business, in partnership with Warren Averett, 50 "Top Tigers" will be recognized.
Brown's search for the "gold standard" inspired her to begin a business in the kitchen of her Auburn home. "My mother taught me how to cook at age 4," she said. "As soon as I could stand on a stool, I was stirring. I was obsessed with chicken salad. Every restaurant I visited that chicken salad was on the menu … I ordered it. I wanted to know who had the gold."
Brown, the Auburn University 2016 Entrepreneur of the Year, began making batches of chicken salad for friends and neighbors. She began with one recipe with four variations. Then she received some advice from her friend and eventual late husband, Kevin Brown.
"When I was developing this out of the house, I reached out to Kevin, who later became my husband and is very business-savvy," she added. "When I said I've got these four variations, he said 'you should give them some way to differentiate these flavors. Give them some girlie names.' I was like, 'This is brilliant!' I had already named the business Chicken Salad Chick. This is a theme! It's all coming together."
Early success created enough buzz to bring customers to her home kitchen, but it also brought a health inspector. After Brown learned it was illegal to sell home-cooked food, Kevin Brown persuaded Stacy to open a small restaurant location in Auburn.
"The biggest risk and the biggest fear came back in the beginning," she said. "That was moving from neighborhood delivery, door-to-door, to opening a restaurant. Am I going to take my life savings and put that into possibly providing a stable home for my kids, or am I going to put everything into a restaurant that serves only lunch, serves only chicken salad and only did take out? It didn't sound like a good idea."
It all worked out. Today, Chicken Salad Chick features 103 locations across 12 states.
The Top Tigers luncheon is part of the annual Auburn University Entrepreneurship Summit, which celebrates successful entrepreneurs and welcomes the spirit of new adventures.
Top Tigers for 2019 are:
* Large business division -- Southern Veterinary Partners (Dr. Jay Price, Barron Lakeman, Dr. Jeff Falone, and Dr. Chase Whitworth); Newline Interactive, Inc. (Chris Bradford); RESICAP (Andy Capps, Timothy Wooten, and John Capps); eHire, LLC (Kyle Tothill); Carter & Carter Construction, LLC (Bradley Colin Carter, Rick Edema, and Anderson Yates); Unified (Jesse Channon); Interior Elements, LLC (Ben Chappell and Joseph P. Martin); Torch Technologies (John Watson); Simulations Plus (Walter S. Woltosz); Wren Associates, LTD (Andrew Wren); Stone Martin Builders (Mitchell Martin); Rogers & Willard, Inc. (Michael C. Rogers, Steven A. Willard, Ryan A. Ott, and William P. Davis); SEA Wire and Cable, Inc. (Dana Town); Blue Cross and Blue Shield of Alabama (Tim Vines, Cindy Vice, Robin Stone and Sheila Herringdon); Voigt-Abernathy Sales Corporation (William C. Voigt); The Broadway Group (Bob Broadway); Watkins Trucking, Inc. (Robert Watkins); Timber Products Inspection, Inc. (Ronald L. Williams, Jerry B. Moore, Jerry L. Williams).
* Medium business division -- Kahua (Brian Moore); Elite Transit Solutions (Michael D. Johnson); Branyan Hills Technologies (Webb Morris); Lake Homes Realty (Glenn S. Phillips); Sylvan Sport (Thomas Dempsey); Montgomery Technology, Inc. (Tim Skipper, Nathan Skipper, Patrick Skipper, and Thomas Sexton); 3-GIS (Jerry Golden); Bell Media, LLC (Scott Bell); Village Dermatology (Jenny Sobera, MD, Audrey Easterwood, and Ashley Moss); Muscle Up Marketing (John Butts); Summit Salon Business Center (Heather Bagby); Barfield, Murphy, Shank & Smith, LLC (Don Murphy, David King, and Keith Barfield); William Blackstock Architects, PC (Joel Blackstock, William G. Newton, and William C. Segrest, Jr.); Grand Bay Construction, LLC (Christopher Burch and Michael Carpenter); Building & Earth Sciences, Inc. (Jeffrey A. Cowen); Fravert Services, Inc. (Cindy Fravert); First National Bank of Hartford (Henry Jackson Hughes, Robert E. Guilford, John Jackson Hughes, and David Thompson); South Central Steel (Andrew R. Schroeder); and Daniel Corporation (Pat Henry, Justin Weintraub, Burgoyne Fite McClendon, and Thomas Sexton).
* Small business division -- B&B Bartending (Bobby Greenawalt, Rhianna Lerma, Cody Cryer, and Anna Hawkins); Airship (Trent Kocurek and Luke Richardson); 30A Luxury Vacations (Chris Gifford); SmarterServices (Dr. Mac Adkins); Truitt Insurance & Bonding, Inc. (Tony Truitt, Don Adams, and Wayne Smith); The POE Group (Joe Kager); Iron Tribe Fitness (Forrest Walden); Drake Land Services (Michael W. Peiler); Silverline Marketin, Inc. (Ann Farmer); Method Mortgage (Craig Tindall and Adam Stoffregen); Gigi's Cupcakes (Jennifer Cooper and Patrick Cooper); Goose Pond Colony Resort (Lyle Sosebee and Scott Dobbins); and Richter Landscape Company (John Richter).
Activity on March 29 kicks off at 9 a.m. with the Tiger Cage student business pitch competition finals, where four teams of Auburn University students pitch their business ideas to a panel of industry professional judges, "Shark Tank" style.