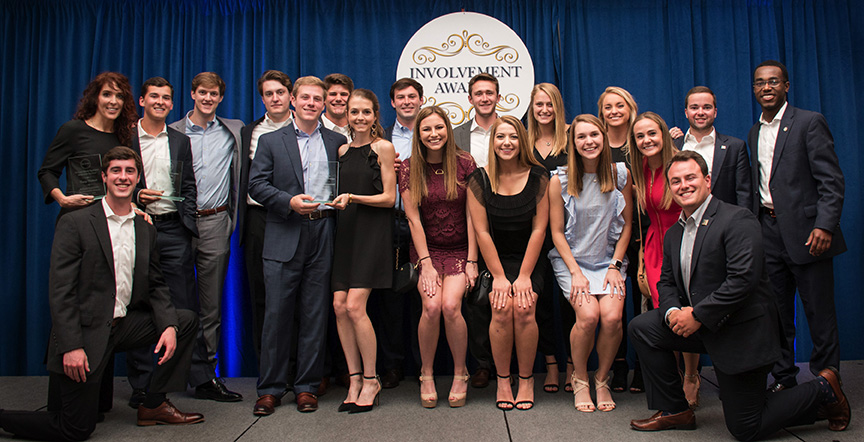 How successful was Auburn's Financial Management Association chapter this year?
The organization was nominated for five of the university's 12 Student Involvement Awards – and won three. FMA members participated in six national case competitions – and won more than $45,000 in scholarships and equity funding. There's more -- outgoing chapter President Jordan Carr was named Auburn University Male Student Leader of the Year.
It's no wonder that Tracy Richard, a finance instructor at the Harbert College and FMA director, earned Auburn University's Corey Edwards Organization Advisor of the Year and Parents' Association Faculty and Staff Awards.
Carr, a rising senior in engineering, considers Richard (top left in the photo above) the "driving force" behind the association's achievements. "FMA was founded four years ago when Tracy saw a need to develop and train top students interested in finance to be more competitive in the job market," he said. "What she created with her students has grown into an organization that is far more than just a professional society – it is a support network for students that exposes them to different areas of finance and helps them get to the area they decide on."
FMA's programming includes career prep, networking, industry exposure, mentoring and additional academic training. To be considered for membership, students must maintain a 3.5 GPA, be at least a second-semester freshman, and be pursuing either a finance degree or have a genuine interest in a finance career with an equivalently difficult major (20 percent of FMA members are currently pursuing engineering degrees). A panel of FMA officers selects new members after a round of applications and interviews.
Richard, who pointed out that this year's FMA graduates will earn an average starting compensation of $93,600, believes the organization gives students the tools necessary to compete with peers from the core investment banking schools.
"The finance department has an amazing faculty. As we grow and strengthen FMA, so too are we focused on tangentially drawing on the available academic expertise to create an integrated major – one that includes both outstanding teaching and excellent career preparation," she said.
How does FMA succeed? Ownership, drive, and attitude, Richard said, giving the students credit. "How can you not be amazed by students that seek challenges, work tirelessly to accomplish their goals and then turn around and help the next in line?" she said. "Our seniors spend countless hours helping our younger members, and it doesn't stop there. FMA alumni are incredibly engaged. They recognize what the organization provided them, and they have a vested interest in its future."