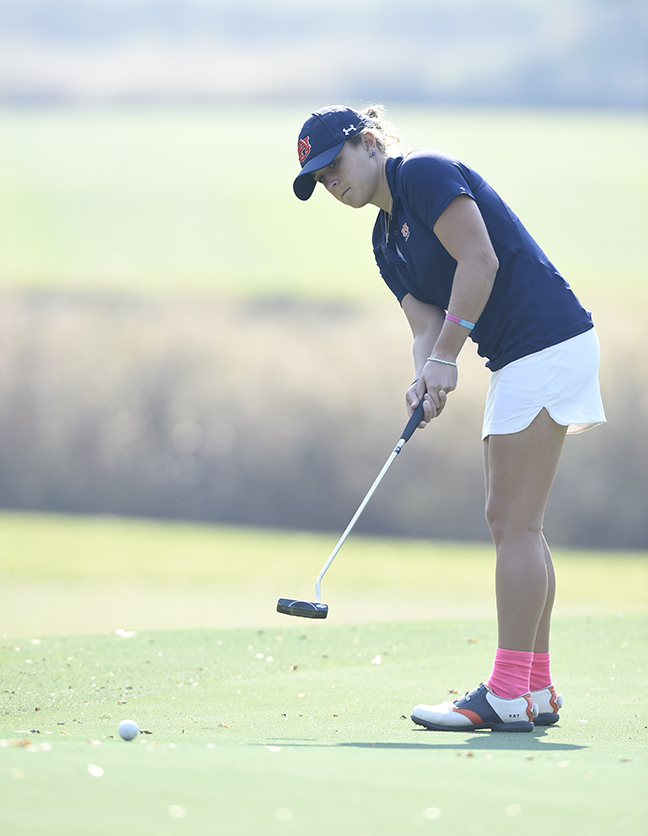 Victoria Trapani stood at life's crossroads and didn't know where to turn. Trapani was just a sophomore at Auburn in 2012 when she learned cancer metastasized in the lungs of her mother, Kim.
"I'm not going to lie, I thought I wanted to quit and I was going to transfer back home and be with my mom," said Trapani, now a senior in accounting in the Raymond J. Harbert College of Business and former Auburn women's golf standout who will graduate this summer. Head Women's Golf Coach Kim Evans stepped in and encouraged Trapani to take some time off.
Weeks later, Evans was diagnosed with ovarian cancer. "She was like my second mom," Trapani said. "You hit this wall of no feelings and you don't know what to do."
Enter Auburn Women's Golf Assistant and former player Danielle Downey -- who returned to finish her degree and helped run golf operations while Evans, who recently retired from coaching, recovered from chemotherapy treatments.
"Danielle was the one that brought me out of my slump," said Trapani, who earned Freshman All-SEC honors for 2011-2012 and finished her career with the ninth-lowest average in school history (75.05). "She said, 'sitting around being upset is not going to help you, it's not going to help your mom and it's not going to help the team. You're really hurting yourself and you're going backward, not forward."
Trapani – who as a youth in Hollywood, Fla., dragged a pull cart with borrowed clubs with her bicycle every afternoon to a nearby driving range and vacuumed the pro shop and retrieved range balls nightly to pay for practice -- rebounded in 2013 and helped the Tigers finish sixth at the NCAA Championships in Athens, Ga.
But the night of Jan. 31, 2014, changed everything. Downey was killed in a single-car accident near Auburn. "Right when everything was going in the right direction …" Trapani said. "I have a hard time putting into words what I felt like. Obviously, my grades suffered. I was trying to play golf, live life and deal with everything that was going on. It was really hard."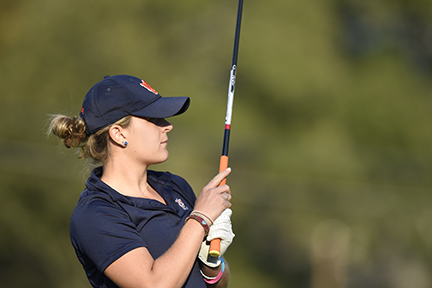 Thursday, Trapani -- who once mowed lawns just to pay junior golf tournament entry fees in south Florida -- will make her professional debut via sponsor's invite/exemption at the Symetra Tour's Toyota Danielle Downey Classic in Rochester, N.Y.
"This is probably the best circumstance I could have – to be honoring Auburn for the last time and somebody who was a big part of my life," said Trapani. "Danielle really helped me come out of a dark place and I could never thank her enough. I'm honored that I was chosen. Regardless of how I play, I know that she will be smiling."
Amy Murphy, Director of Accounting Graduate Programs, beams when asked about Trapani.
"Victoria is everything that the Auburn Creed describes about an Auburn woman," Murphy said. "She has never had everything given to her on a silver platter. What she has earned, she has earned based on her own hard work and her ability to use her 'hands to work skillfully.' She is such a strong young lady and has a 'spirit that is not afraid.'
"It's been an honor and privilege to have served as a mentor and advisor to Victoria, and I believe that I'm a better educator today because of my interactions with her."
Though Kim Trapani was originally diagnosed with breast cancer in 2008, she continues to vigorously battle the disease today.
"She was one of four people to be chosen for a cancer vaccine and she's tripled the survivor rate for all stage four breast cancer patients," Victoria said. "The past couple of months it metastasized again in the pleura, above the lungs, and it's causing her lungs to fill with fluid. She has to get them drained every day. She's on another new chemo that is supposed to help."
Trapani believes her mother and father, Robert, will make the trip to New York.
"It's going to be emotional for me and my parents," she said. "I don't think my mom would miss it for the world regardless of how she was feeling."