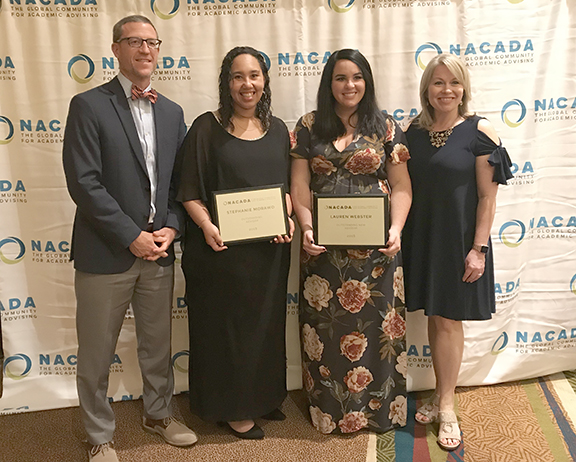 Among the 14,000 National Academic Advising Association (NACADA) members – two Harbert College advisors – Stephanie Morawo and Lauren Webster -- were recognized as Global Award winners at its annual national conference Sept. 30-Oct. 3 in Phoenix, Ariz.
Morawo, who specializes in working with Harbert College marketing majors, was one of 12 "Outstanding Advisor Primary Role" winners. Webster, who works with federal VA students, varsity athletes and non-business students who might consider transferring into the Harbert College, was one of six "Outstanding New Advisor" winners. They are photographed above with Norman Godwin, Associate Dean for Academic Affairs at Harbert College, and Beth Ann Mabrey, Director of Student Services.
"To be selected as the recipient of a national advising award with NACADA is one of the most prestigious accomplishments in our profession," said Mabrey. "And to think … two advisors not only from the same university, but two advisors from the same school/college won in their category. To my knowledge, that is a first for Auburn University. Lauren and Stephanie's commitment not only to their students but also to the other members of our Harbert advising family is outstanding."
Morawo, who earned her master's in Administration of Higher Education from Auburn in 2014, also works as an instructor for the Professional Development in Business course for incoming freshmen business students.
"When students leave my office, I want them to feel more confident in that they can do it, be successful in their classes, graduate on time, go out there and find a job and be successful," she said. "I want them to be more confident in the process in-general. Sometimes when they first come into our offices, they feel lost. When they leave, I want them to have that assurance that it is OK, they have a support system and they have someone who's in their corner."
Both Webster and Morawo are no strangers to NACADA success -- they were NACADA Region IV award winners last spring.
"Advising, at times, can be an overlooked profession in academia so to be recognized among the best is an awesome feeling," Webster said. "Seeing my students succeed, in any capacity, is what makes coming to work every day worth it. Seeing the smile on their faces when they have climbed to the top of the mountain is like no other."
A portion of the award nomination process included packets of letters and emails from current and former students -- and parents -- that detailed the passion Morawo and Webster showed for students.
"Some of the stories are inspiring while other stories make you reach for the tissue box," Mabrey added. "I am so proud of their accomplishments and hope to continue the trend of sharing the success stories of other Harbert advisors. Academic advising requires critical thinking and problem-solving skills, and it is definitely not a career that you can turn off when you leave the office each day. In addition to consistently thinking outside of the box, the best advisors consider the well-being of their students before, during, and after they leave the office, and I see those themes play out every day with our advising team."