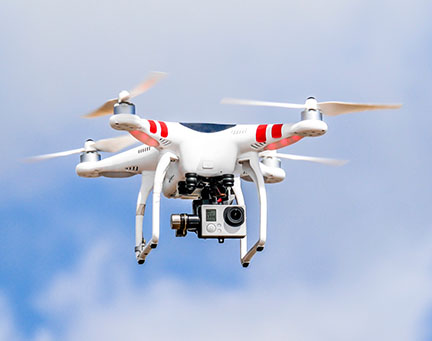 Public safety departments send personnel into harm's way in hopes to better manage dangerous situations more effectively. Even civil engineers face their fair share of risk while inspecting bridges, busy roadways, tall buildings and key infrastructure components. Both jobs put men and women at risk, but emerging technology may hold the key to minimizing safety risks.
Representatives from Auburn University's Aviation Center, which launched the first FAA-approved Unmanned Aircraft Systems (UAS) flight school in 2015, have met with a handful of public agencies about training officers and civil engineers to effectively use UASs -- most commonly referred to as drones -- which can also have multiple commercial uses.
"With a first responder situation, hostage situation or an unknown, you ask yourself, 'what's really happening?'" said Earle Thompson (below/right), a retired U.S. Air Force colonel who heads the university's UAS operations as part of the Auburn Aviation Center in conjunction with the Harbert College of Business' professional flight management program.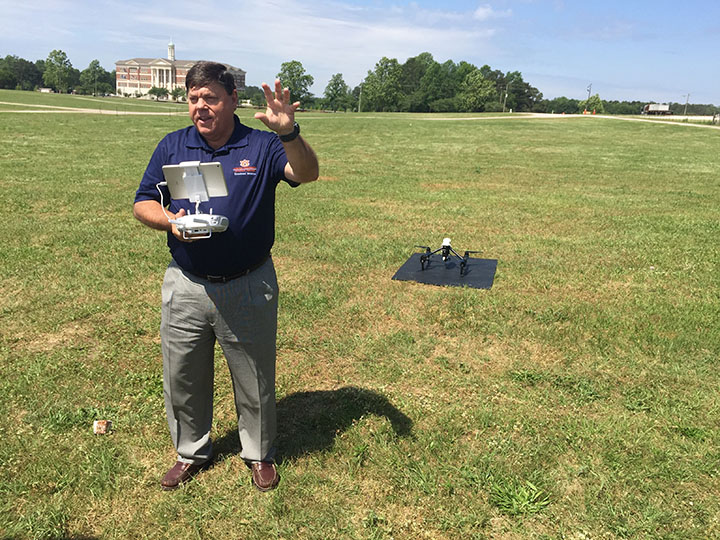 "You can fly a UAS to the site of an incident and keep personnel in a safe perimeter area. Once you are over or near the site, the UAS will allow a good view of the area before you start sending officers into potential harm. We're probably going to do some training with (the Birmingham Police Department) on how to use small UASs, specifically for investigative work – first responder type of events, especially if you've got a bomb threat or chemical spill."
Drones have become an integral part of aviation education at Auburn. In fact, the Aviation Center will host a gala Nov. 18 celebrating 75 years of Aviation in Alabama, in conjunction with the annual Auburn Aviation Management Alumni Reunion, Saturday, Nov. 19.
"Auburn University has been involved with providing aviation and aerospace education opportunities for over 80 years. In fact, 2016 marks 75 years of manned flight training," said Bill Hutto, Auburn University Regional Airport Director. "Offering educational opportunities in the burgeoning unmanned aircraft systems (UAS) is a natural extension of our aviation offerings. Also, since UAS will be used in many types of industries, it provides us an opportunity to offer this training to those in many different majors across campus."
Thompson said multiple state and municipal agencies have expressed an interest in utilizing the UAS flight school. Thompson, who piloted F-16s and A-10s in the military, added that drones can also aid in the search for lost children and adults suffering from dementia.
A team from the Alabama Department of Transportation was recently trained by Auburn's UAS flight school.
"The Alabama Department of Transportation folks could use it when they are looking at traffic patterns and map how traffic is flowing now and how they could improve that," Thompson said. "You can certainly look at information after accidents to see if how the infrastructure is designed might have been a contributing cause. If you go underneath a bridge and look at joints, right now you've got to put a guy in a bucket with a harness and that's a lot of aggravation, plus there are safety issues there."
Thompson said a drone, outfitted with a camera located vertically with the rotors, can get an up-close view beneath a bridge.
"It's got two big LED lights on it to light up dark areas beneath bridges," he added. "So now you can light up what you're taking a picture of and using. A 4K camera, a telescopic lens, and software that tells the UAS to stay a specific number of feet from an object so it doesn't run into the bridge structure. You can take very good pictures – sufficient enough where you can blow it up and really take a hard look at it and see if there's an erosion or crack problem."
Since the FAA has classified UASs as aircraft, drone flights are subject to FAA regulations, must fly no higher than 400 feet and be controlled by a licensed pilot and visual observer if you are conducting commercial operations. The UASs are remotely operated, however, you are required by the FAA to maintain them in visual line of sight."
"All of our Auburn people who are flying them currently are pilots, with at least a sport pilot rating or better," Thompson said. But operating them isn't as easy as you might think.
"The first time you are teaching your kids to drive in a car when they're 15, they probably thought they knew how to do it until they try to negotiate that first corner," Thompson laughed. "It's the same thing with UASs. I could take five minutes and have you hover one in the lobby with no problem. But to fly it with skill through that doorway and inspect its hinge takes a little more precision. It's just an acquired thing. It takes practice and experience."