What are the differences between using Excel spreadsheets and Access database, and why should accounting students want to learn how to use Access? Therese Viscelli, Visiting Assistant Professor in the School of Accountancy at Harbert College, co-authored a case study that explains why.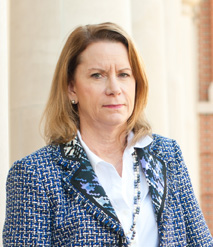 "Building Skills in Data Analytics: Bridging the Gap Between Spreadsheet Modeling and Database Querying," goes in-depth about Access queries, how they can be applied to business situations, and how students can learn to create them. Not only was it recently accepted for publication in "Issues in Accounting Education," the premier journal for educational issues in accounting, but it also earned the Outstanding Education Case Award Sponsored by the Institute of Management Accountants in January at the American Accounting Association Accounting Information Systems Section Midyear Meeting in Houston, Texas.
The study was co-authored by A. Faye Borthick, Georgia State University, and Gary P. Schneider, recently retired from Quinnipiac University.
The paper discusses issues students, from multiple schools, had using Excel and Access as they worked through a hypothetical case study. The paper also reported various faculty reactions. "I like the idea of equipping accountants with the tools to analyze large datasets," one anonymous accounting professor said in the report. "Further, I like that the case seeks to show the shortcomings of traditional spreadsheets models."
"It's not necessarily that it's better than Excel, but there are certain situations where it's the better tool to choose," Viscelli, who teaches one of the accounting information systems at Harbert College, explained. "For years, Excel was limited to just 65,000 rows. If you had more than 65,000 pieces of data, you were out of luck. Now, it's limited to a million. But with Big Data today, it's not uncommon that you have more than a million rows of data that you have to work with and the complexity of the analyses has grown.
"Access also allows you to do much quicker analysis because … let's say you have data on two or three different tabs within Excel and you've got to bring the data together. That can be very tedious and if there are data updates, you've got to go through the data loading process again. If you load it into a database, you just indicate how to link those files. Every time you get a new file, you just upload the new file, and Access already knows what to do."
Viscelli, who came to Harbert College in 2013, holds a doctorate in Business Administration with a focus on accounting from Kennesaw State University.