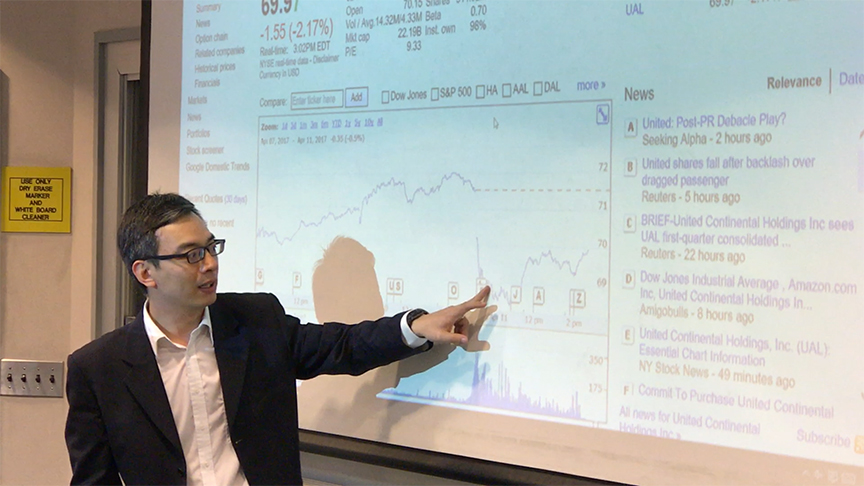 A top manager asks a potential employee, "Do you have experience doing equity analyses? Do you know how to do variations? If I give you some spreadsheets from a company's reported accounting, will you be able to crunch these numbers and tell me if this company is worth investing in?"
"This is a necessary skill set for anyone who wants to work in the financial industry," said Albert Wang, Associate Professor in Finance at the Harbert College of Business. "Top managers expect this."
That's why bringing Wang, an elite educator with a strong skill set in technology, statistics, and mastery of Excel modeling, into finance classrooms was so important. Wang provides Excel modeling skills through his financial modeling classes, which feature today's trendy business tools, including capital budgeting, variations and portfolio optimization. Wang's financial modeling class was originally open to Auburn Financial Management Association students only, but is open to other finance students who have interest and ability to handle the advanced curriculum. Prior Excel training is required.
"Auburn's FMA students are very eager to learn the new stuff," said Wang, who arrived at Harbert College in 2016, and immediately taught a pilot financial modeling class for FMA students. "Though some might not have heard about the new stuff that I am talking about in class, they are not shy to ask questions. They always come to me for extra help. I'm pushing a lot of stuff in a short period, so the class has become very intensive. These students love to learn."
Wang, a devoted family man who lives in Columbus, Ga., and has fallen in love with American football, said he's added "challenging, tough topics" into the financial modeling classroom geared toward preparing FMA students for what they will see on the job.
"From the modeling perspective, a lot of times when you are working for a mutual fund or a security company, they will ask you to do a fundamental analysis on a company and figure out if it is a good company to buy," he said. "They need to find out what's the value of a company. You look on a spreadsheet with all of the accounting information – the public information of a firm – and you figure out what you think the company is worth by looking at what the company is making today and what you project the company will make in the future.
"It's standard practice to have a modeling spreadsheet – an existing template you can use that you can take that information from, like an accounting report, and put into the spreadsheet to figure out the value of the firm."
Decision-making has become more complicated, Wang said, as more and more processes and analyses are involved when projecting a company's worth. That's why mastering an Excel spreadsheet and having a broad knowledge of modeling skills can "dramatically reduce the complexity and help make the decision-making easier and more quickly," Wang said.
Wang considers his work with FMA students as "a unique experience."
"They are very eager to learn," he said. "If I tell them that their class work is going to help them with their career, they will do it. Because they are hard-working and willing to spend time to learn – it's amazing. A majority of the students will know the material very well by the end of the semester and when they get internships – they will perform very well."