Makenzie Warnick, a senior from Northport, Alabama, is the Harbert College of Business School of Accountancy's seventh Public Company Accounting Oversight Board (PCAOB) scholar. This honor is accompanied by an extremely generous monetary award as Warnick will also receive a $10,000 scholarship for the 2019-2020 academic year.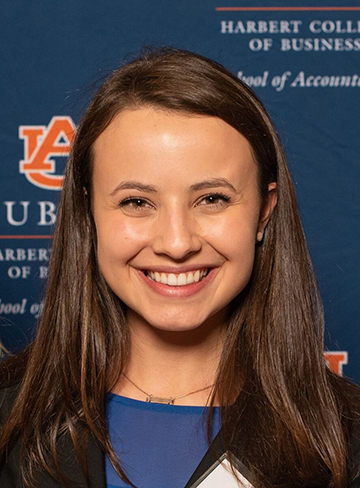 The prestigious PCAOB Scholarship Program, now in its ninth year of funding awards, was created to satisfy a requirement of the Sarbanes-Oxley Act of 2002. The Act mandates that the PCAOB use money collected from disciplinary penalties to fund a merit scholarship program for students in accredited accounting degree programs. Nominees must demonstrate an interest and aptitude in accounting and auditing.
Warnick, a perfect 4.0 student, already had the interest and aptitude for the degree. Thanks to the PCAOB, she now has the funds to complete it.
"I knew from a young age that pursuing a formal education and degree would be one of the most important things I would ever do, and awards like this support me in achieving those goals," Warnick said. "This award means so much to me and my family because it helps me move one step closer to graduating … and to becoming a Certified Public Accountant."
Warnick looks forward to interning this spring at PwC in Nashville and is fascinated by the audit side of accounting because of the variety of industries and environments she will be exposed to on the job.
"I am convinced that the professors in the School of Accountancy (SOA) are the best professors on campus. They have been an integral part of my academic success through their commitment to my education," she added. "The SOA faculty has also prepared me exceptionally well for my career after graduation through their advice and preparation for the internship recruiting process, which has been invaluable to me. I appreciate their willingness to answer any and all of my questions about accounting, no matter how many I've already asked!"
Warnick is more than just an award-winning accounting student. She is also a peer career advisor at the Auburn University Career Center and a Student Recruiter (campus tour guide).
"I love being a part of the AU family, and anything I can do to help another student means also helping a member of the Auburn family," she added. "Advising students on their career preparedness has been such a joy because I get to hear so many people's life stories as well as make a tangible difference in their career development process. Being a student recruiter means formally doing what I do all the time anyway: tell everyone why I love Auburn so much! Having the opportunity to share my passion for Auburn with prospective students and parents has been one of the most memorable parts of my college experience."
Warnick loves Auburn so much that she plans to spend another year on the Plains after graduation. She aspires for acceptance to the Auburn Master of Accountancy Program, where she will take another step towards her goal of obtaining her CPA.
Other recent PCAOB Scholarship recipients from Auburn University's School of Accountancy include Ben Seneker (2018-2019), Sarah Patrick (2017-18), Zach Blomeley (2016-17), Lauren Cleveland (2015-16), Brandon Steverson (2014-15), and Gabi Bailin (2012-13).