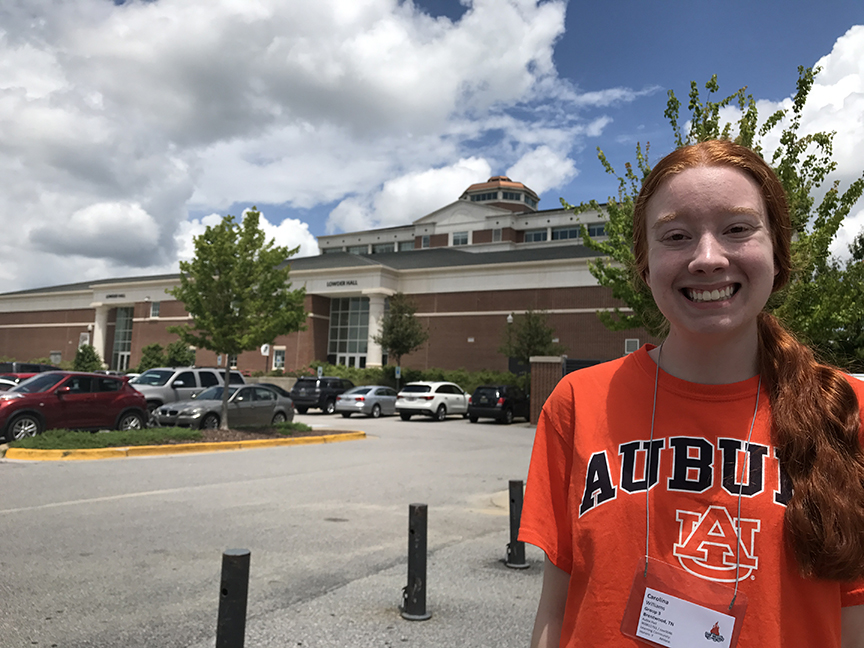 An award-winning essay about pizza earned a Brentwood, Tenn., teen acceptance into the Ivy League and social media celebrity status. Instead, Carolina Williams chose Auburn University and, more specifically, the Raymond J. Harbert College of Business.
Why?
"I liked the freedom in the curriculum," said Williams, who was arguably among the most popular freshmen-to-be at Camp War Eagle on June 1-2. "I like that I don't have to choose (a major) immediately, and where I can be pre-business, and have the opportunity to take other classes that interested me."
Williams, who scored a 34 on the ACT, recently earned admission to Yale -- partly due to a 200-word essay about her love of ordering Papa John's Pizza. "If you write an essay that's reflective of your personality, that will help you stand out to a college more than anything," she said. "I wrote about pizza literally because I love pizza, but I also thought that it would be funny and stand out."
Her story went viral on social media – and was shared by more than 300 national and international media outlets, including "Good Morning America," "The Today Show," USA Today, People, and London's Daily Mail. "It's been crazy," she said. "My friends think it's hilarious. They see my face on the news now and on their social media feeds and people have been sharing it. This (exposure) came at perfect timing because it happened while I am at Camp War Eagle and I am able to make connections."
Her essay won admission to the Ivy League, but Auburn had her heart.
"When I came to Talons Day in February, I was super-impressed," said Williams, who had no previous ties to Auburn. "I toured Auburn because one of my friends' family went here and a bunch of people that are my parents' friends wanted me to tour it. I was open to anything when I was touring colleges. But when I came here, I immediately loved the spirit. And when I found out that the business college was ranked in the Top 30 among public business colleges – I was totally sold."
She may have a head start on her career plans, thanks to the essay about a certain pizza-maker. Papa John's founder John Schnatter offered her an internship via YouTube video:
Williams earned Auburn's Presidential Scholarship ($72,000 over four years), as well as the Edward and Catherine K. Lowder Endowed Scholarship offered by the Harbert College. Williams, who begins taking classes at Auburn this fall, described herself as a "multifaceted person" with many different interests, particularly reading. "I have read 100 books a year for the past two years," she said. "I am going to take literature classes here."
Back home in Tennessee, Williams was a volunteer at her local library, active in her church, and participated in Model U.N. in high school. Expect more activity at Auburn. "I'd love to start some type of organization that I'm passionate about," she said. "I'd love to start something in the business college or a literacy program for somebody in the area."
Though Williams is officially pre-business and will minor in economics, she expressed particular interest in business analytics – a degree program launched by Harbert College in 2013. "I feel like there is so much room for my creativity in that (business analytics)," she said. "I love analyzing things and I love business. I love trends."