Campuses nationwide are celebrating Women in Entrepreneurship Week and Auburn University is a shining example of not only leading student female entrepreneurs, but professional entrepreneurs as well.
Two of the Tiger Cage Accelerator and Incubator's leading student startups, ESCAPE Therapy and Snippety Snap, not only continued to grow their businesses at the Auburn Research Park, but they finished first and second at last year's Tiger Cage Student Business Pitch competition.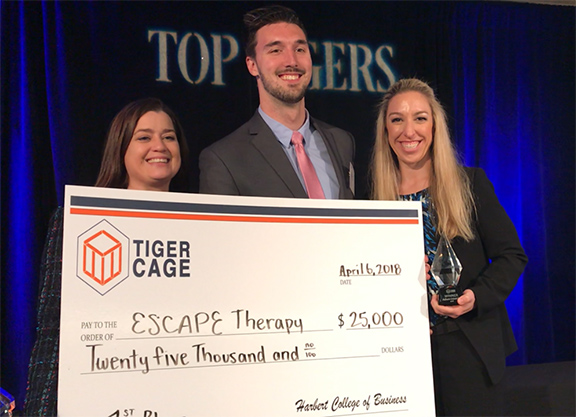 "As Women's Entrepreneurship Week is celebrated by colleges and universities in 32 countries and the United States, we're pleased to recognize four Auburn women entrepreneurs - Sarah Gascon and Dawn Michaelson, founders of ESCAPE Therapy, as well as Courtney Haun and Olivia Cook, founders of Snippety Snap," said Lou Bifano, Director of Entrepreneurship Strategy at the Harbert College of Business.
Gascon is a doctoral student in kinesiology, while Michaelson is pursuing a doctorate in consumer and design services. ESCAPE Therapy, which won a $25,000 cash prize and $25,000 more in professional services in the Tiger Cage competition, features an electrotherapy garment designed to aid in injury rehabilitation. The team was joined last fall and spring by Matt Hanks, who earned his doctorate in kinesiology.
"Our garment works in conjunction with the physical therapist," Gascon said following last spring's Tiger Cage event. "The patient can take it home and they can use it while they are also doing the rehab exercises. We are bridging the gap between a physical therapist and a patient."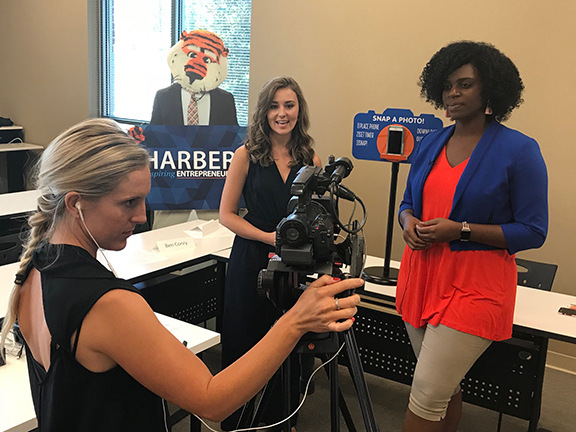 Snippety Snap is a public cell phone stand and integrated mobile app that allows users to take photographs at popular locations. The public administration and public policy doctoral student team of Haun and Cook won $21,000 in the Tiger Cage competition.
"We're delighted to have four highly motivated female founders performing at this level and inspiring other Auburn women who are interested in entrepreneurship and starting a new business while pursuing their education here at Auburn University," Bifano continued.
Tara Wilson, founder and CEO of the Tara Wilson Agency (public relations firm in Fort Worth, Texas) was honored as the Auburn University Co-Entrepreneur of the Year at last spring's Auburn University Entrepreneurship Summit. The Tara Wilson Agency was ranked among the Fortune 5000's top companies in 2017 and 2018.
Wilson, a 1997 Harbert College graduate, will be among the speakers at the Harbert College Women in Business Fall Summit on Friday, November 2. Other featured speakers include Annette L. Ranft, and Bijna Dasani, Advisory Board member at CIONEXT UK and Head of Architecture and Innovation at Lloyds Banking Group.