Yellow Card Financial, a cryptocurrency startup of two Auburn University students, recently took second place at the Global Student Entrepreneurship Awards (GSEA) National Finals in Dallas, Texas.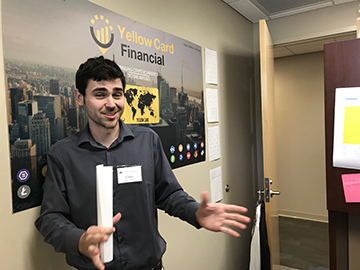 Chris Maurice (right), a senior finance major in the Harbert College of Business, and Justin Poiroux, a junior in engineering, earned $5,000 in the field of 26 teams. Yellow Card provides a simpler route for consumers to purchase and sell digital currencies – including Bitcoin -- across the globe.
"This definitely shows how far digital currency has come," said Maurice, who won the GSEA U.S. East Regional round January 26 in Atlanta and earn the trip to nationals. "It's nice to be able to pitch the idea to a panel of people and for the first time the majority of them actually understand what Bitcoin is. We can move past that on to what we actually do instead of getting caught up on what digital currency is."
Maurice and Poiroux are part of the Tiger Cage Accelerator and Incubator program at the Auburn Research Park. The Tiger Cage Accelerator and Incubator provides office and co-working space for student-led startups. The accelerator and incubator is managed by the Harbert College's Lowder Center for Family Business and Entrepreneurship.
The team is no stranger to national competitions. Yellow Card pocketed $25,000 last spring at eFest, a national pitch competition for undergraduate students with a $250,000 purse. "We always get great feedback each time we pitch in front of a new panel of judges," Maurice said. "It's taking a little bit from what each person is saying and trying to do better moving forward."
Perhaps the biggest event on Yellow Card's horizon isn't necessarily a competition, but an opportunity to pitch their product before investors and industry executives in a casual environment. Poiroux and Maurice were invited to attend the Gathering of Titans, a nationwide gathering of investors and entrepreneurs, April 19-23, at the Massachusetts Institute of Technology in Boston.
Maurice said he was "certainly" looking for more investors at the event. "Hopefully, we can come away with even better contacts than before," he said. "It's a very well-established conference, and to get the opportunity to go has shown just how far the industry (cryptocurrency) has come. We're starting to be recognized by events that are older than digital currency itself."