Auburn University student-led startup Yellow Card Financial recently took first place and a $10,000 prize at the University of Georgia's Next Top Entrepreneur pitch competition.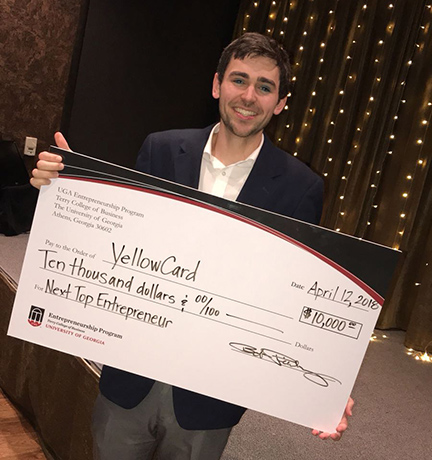 Yellow Card Financial CEO Chris Maurice, a senior finance major in Auburn's Harbert College of Business, presented on behalf of the team and said adding charts to explain the difference in cryptocurrency market volatility between the U.S. and developing nations might have made the difference.
"One of the first questions we always got from the judges was around the volatility – so it really helped get everything out in the open immediately and help them move past it early," said Maurice, whose team won $25,000 at eFest in Minneapolis last spring and won $5,000 more at the Global Entrepreneurship Awards national pitch competition earlier this year.
"It's nice to land one of those giant checks," Maurice added.
Justin Poiroux, a junior majoring in engineering, and Sarah Louise Boland, a junior in entrepreneurship and family business, complete the Yellow Card Financial team.
Yellow Card Financial has worked out of the Tiger Cage Accelerator, which provides student-led startups with office space and expert mentorship.
What's next for Yellow Card Financial? "We'll be planning and preparing to head over to Nigeria later this month to get things rolling overseas," said Maurice, whose business is already thriving in Zimbabwe.