"Earning $25,000 without having to give up anything is pretty good." That's how Chris Maurice, a junior in finance at the Harbert College of Business summed the April 6-8 experience at e-Fest, a national undergraduate student entrepreneurship competition in Minneapolis, Minn.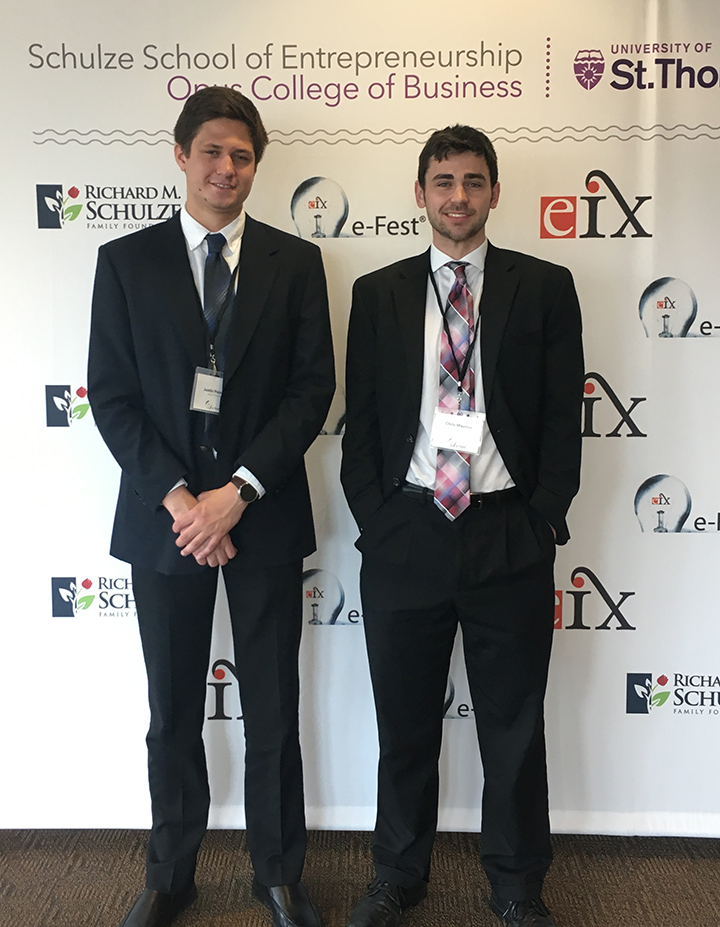 Maurice, from New Orleans, and Justin Poiroux, a sophomore in computer science from Mobile, finished third out of more than 160 original entries at e-Fest – winning $25,000. The team's business, Yellow Card Financial, aims to make Bitcoin and other cryptocurrencies accessible to anyone without delays.
"We will be putting the $25,000 towards finishing our system as we get ready for launch," Maurice said.
Maurice explained that more came from eFest than prize money, as the team caught the eyes of potential investors. "There were two guys up there extremely interested in what we do," he said. "We'll be speaking with them further. Additionally, some of the great business leaders from the Auburn community that helped us prepare have expressed significant interest."
Maurice and Poiroux were nominated for e-Fest by Harbert College Management Professor Lakami Baker, who serves as director of the college's Lowder Center for Family Entrepreneurship and the Tiger Cage student business pitch competition.
To earn a trip to Minneapolis, Yellow Card's submission of videos and slide decks detailing the team's business concepts, won over preliminary judges, who stamped their ticket to last week's semifinals and finals. The top five teams, including Yellow Card, advanced to the finals.
"The semifinal judges were absolutely blown away," Maurice said. "They told us afterwards that we had the biggest idea which would most likely succeed. They truly understood the market, the problem, and why our solution works."
Maurice said he hopes to secure more funding over the next few weeks, launch this summer, and "prove some people wrong."