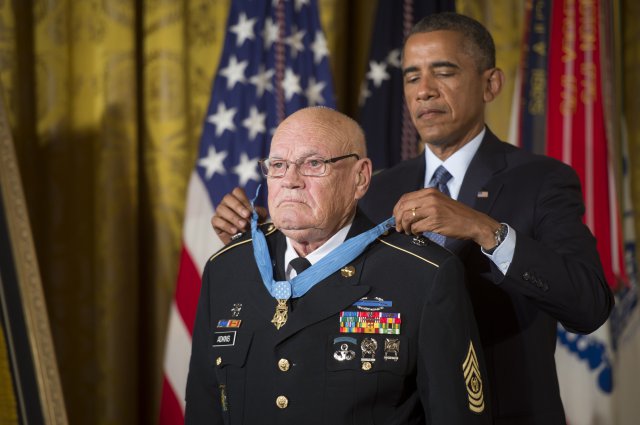 Ret. Army Command Sgt. Maj. Bennie Adkins, a recent Medal of Honor recipient, once taught accounting courses at Auburn.
He will speak Thursday at 7 p.m. in Lowder 125.

Retired Army Command Sgt. Maj. Bennie Adkins, who was awarded the Medal of Honor at the White House earlier this month, will discuss leadership during an open campus forum hosted by the Raymond J. Harbert College of Business and the college's Aviation Management Advisory Board.
The event will be held Thursday, Sept. 25, at 7 p.m. in Lowder 125. The event is open to all Auburn University students, faculty and staff, as well as members of the general public.
Adkins, a longtime Opelika resident who once taught accounting courses at Auburn, was one of three Medal of Honor recipients recognized by President Barack Obama in Washington, D.C., on September 15. His appearance at the Harbert College of Business emerged from his friendship with James Birdsong, a lecturer with the college's Aviation Management and Professional Flight Management programs.
In the spring of 1966, Adkins, then a sergeant first class, and his fellow soldiers fought off waves of North Vietnamese and Viet Cong forces during a 38-hour onslaught at Camp "A Shau," rescuing fellow soldiers and evading the enemy in the jungle before being evacuated by helicopter. According to Army records, Adkins sustained 18 wounds while killing an estimated 135 to 175 enemy fighters.
Adkins earned a bachelor's degree from Troy University in 1979 and followed it up by earning master's degrees in education and management from the school. While completing his education, he established Adkins Accounting Service, Inc., in Auburn and served as its CEO for 22 years. In addition to teaching accounting at Auburn University for six years, he taught night classes at Southern Union for a decade.
There were no secrets about Adkins' loyalties during the Medal of Honor ceremony in D.C. When the president revealed that Adkins was a passionate Auburn University fan, members of the audience responded with "War Eagle!"