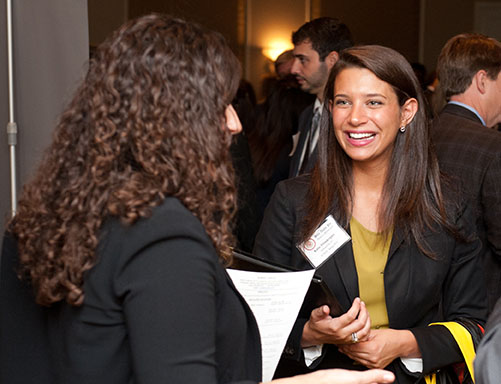 Beyond its novel #HireHarbert hashtag, the Harbert College's Office of Professional and Career Development now uses an entirely new approach in connecting industry recruiters with business students seeking internships and jobs.
OPCD will now offer one-stop shopping for recruiters and students eager to impress them. Its new recruitment event, "The Main Event," scheduled for Tues., Oct. 6 at Auburn Arena, replaces a previous career fair format of multiple events with different themes held over a four-week period. The new approach enables potential employers from a variety of business disciplines to meet with students in one venue, all in one day, where representatives from more than 100 firms are expected.
"Firms need somebody to count the money, market their products, get the products from Point A to Point B and manage their people," said Employer Development Specialist Mike Stover. "They can hire everything that we produce. When we did the smaller fairs, students got lost in which one they should go to."
This event eliminates that question. The "Main Event" splits the recruiting process into three segments:
Noon to 2 p.m.: Students and employers discuss internship opportunities
2 p.m. to 3 p.m.: Students have an opportunity to have professional headshots taken
3 p.m. to 6 p.m.: Students and employers discuss full-time job opportunities
On Monday, Oct. 5, students have an opportunity to meet representatives from 35 firms from 4:30 p.m. to 6 p.m. in Lowder Rooms 005, 015, 110, and 129. There, students will be given a better understanding of what qualities firms are looking for in potential hires. A 6 p.m. networking session is scheduled on the ground floor.
On Wednesday, students invited for interviews will meet with potential employers at Auburn Arena.
"Students need to start early and work each term to make sure they are ready for great internships and full-time job offers," said Melissa Voynich, Student Engagement and Marketing Coordinator in the Office of Professional and Career Development. "In the ideal situation, our Harbert College graduates would walk off the stage and into a job!"
How can students get prepared?
"The OPCD also provides mock interviews and training so that you are well-prepared, and we take our training suggestions from our recruiters and current job trends," Voynich added. Students can use Tiger Recruiting Link (www.jobs.auburn.edu) to schedule an appointment with a career coach.
Firms expected to attend the Big Event include:
AAA Cooper Transportation
ABC Supply, Acuity Brands, Aflac
AIG Financial Network
Altria Group, Amazon.com
APM Terminals
Ashford Advisors
Auto-Owners Insurance
AXA Advisors
BBVA Compass
Briggs Equipment
Brooksource
Cambridge Associates
CapGemini
Capstone Financial
Caterpillar
H. Robinson
Chick-Fil-A
Cintas
CL Services
Colgate-Palmolive
Coyote Logistics
Deloitte
Delta Air Lines
Deutsche Bank
Dollar General
E&J Gallo
Elite Transit Solutions
Employbridge
Enterprise Holdings
Equifax
Eli Lilly & Company
Envoy Air
Evonik Corporation
Exel
EY
Fastenal
Ferguson Enterprises
GEICO
Georgia-Pacific
Great Southern Wood Preserving
Hitachi Consulting
Honda
Howard Industries
Hub Group
Hyundai
Insight Global
Internal Data Resources
JB Hunt
KONE
KPMG
Lidl US
Lockheed Martin
Marquee Insurance Group
Marten Transport
MassMutual
MHC Kenworth
Montgomery Transport
Motion Industries
Mountville Mills
News America Marketing
Nolan Transportation
Northwestern Mutual
Odyssey Logistics & Technology
OHL
Old Dominion Freight Lines
Operation-Mobilization
OTR Capital
P&S Transportation
Pareto Solutions
PLS Logistics
Progress Rail
Protective Life
Pulte
PwC
Quorum Business Solutions
R+L Truckload
RaceTrac
ReadyMix USA
Regions Bank
Republic Finance
RR Donnelly
Sarell Dental
Save-A-Lot
Sherwin-Williams
Sogeti
Southern Nuclear
Spring11
Stanley Black & Decker
Synovus
Target
Teach For America
The Home Depot
Total Quality Logistics
Tower Loan
Turner Furniture
Union Bank & Trust
United Airlines
ULINE
UNUM
Veritiv
VF Jeanswear
Waddell & Reed
Waffle House
Walgreens
Walmart (ecommerce)
Werner Enterprises
WLTZ-TV