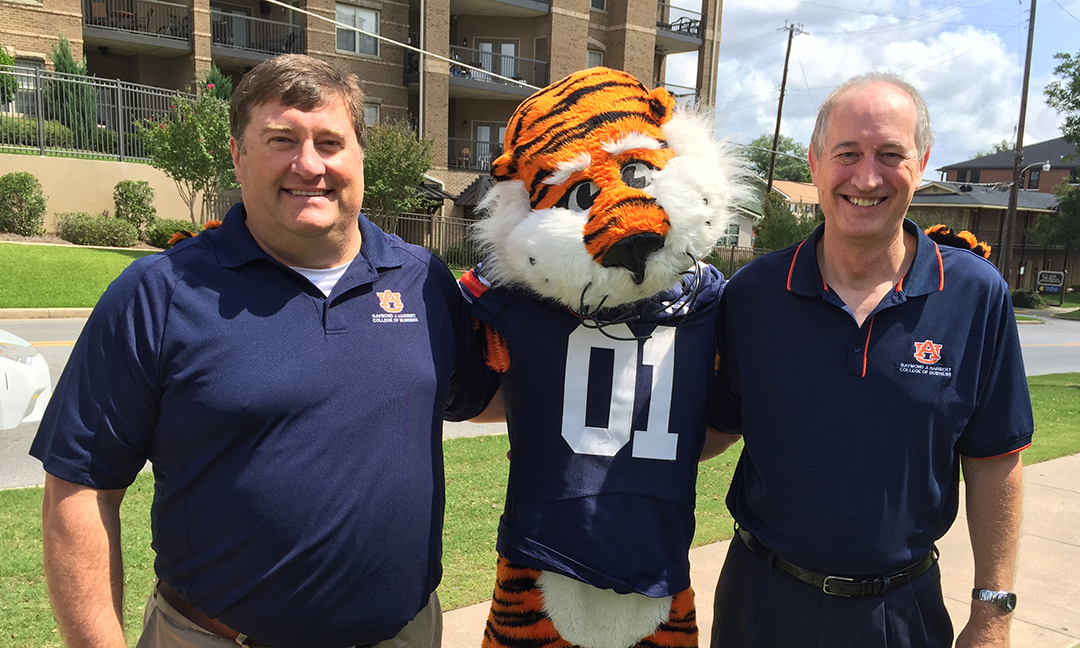 David Paradice (right) wants to solve problems and compare various means to solve them. Glenn Richey (left) is researching corporate transparency and has a passion for working with graduate-level and senior undergraduate students.
Both eminent scholars are new to the Harbert College of Business this fall. Paradice, a native of Atlanta, is Eminent Scholar in Business Analytics and is the Aviation and Supply Chain Management department chair. Richey, originally from Mobile, is an Eminent Scholar in Supply Chain Management.
"I hope to get students excited about the integration of technology in business," said Paradice, who comes to Auburn from Florida State, where he worked in a variety of capacities, including Chair of the Management Information Systems Department, Associate Dean for Undergraduate Programs and Senior Associate Dean for all academic programs.
"My whole career has been at the intersection of business and information systems. Business analytics is going to be huge. That's really exciting, and you've got information systems, supply chain, and aviation in this group as well. Those are all technology-driven areas. I want Auburn to be the first choice for anyone who wants a career in the aviation industry. If I can also make an impact in terms of growing the information systems and business analytics programs up to where supply chain is now and make all three of those even better, getting students to feel really comfortable manipulating data in a business context and leveraging technology in a business context, then I think I will have done what I came here to do."
Paradice, who studied information and computer science and industrial management at Georgia Tech before receiving his doctorate in philosophy at Texas Tech, believes problems are better solved if the right steps are taken – and if the right question is asked.
"What's the opportunity? What's the problem?" asks Paradice, who has published more than 50 articles on the use of information systems in support of managerial problem formulation. "Once you figure that out, everything else falls into place. If you don't get the question right, it doesn't matter how good the statistics are. You've solved the wrong problem. I want to get the students excited about problem-solving."
Prior to working in academics, Paradice was a programmer and consultant at Energy Management Associates, where he was part of a team that implemented one of the first interactive decision support systems in the electric utility industry.
Richey comes to Harbert College from Alabama, where he was a professor in marketing. In 2012, he earned the University of Alabama's Top Teaching Award and the National Alumni Association's Outstanding Commitment to Teaching Award. In other words, he likes to teach and he's good at it. This semester, Richey is teaching Supply Chain Management's Capstone Course and looks forward to working with graduate students in the future.
"I'm excited about getting heavily involved with the graduate programs," said Richey, who received his undergraduate in marketing from Alabama in 1992 and later earned a doctorate in supply chain management from the University of Oklahoma. "I hadn't taught an undergraduate class since 2006. That's what I do. It's my specialty.
"Grad students tend to be more inquisitive and more challenging in the classroom. It's not that undergraduates aren't. My business background has been better applied to graduate teaching. Being able to talk about being there -- what I've been doing -- the realities of what you face with your boots on the ground."
Speaking of Richey's business background, he worked for 10 years after college in managerial positions at Scott Paper Co. and Genuine Parts Company. But academia was his passion.
"The initial thing was teaching and the students. That's why I got back into it," said Richey, who has published more than 70 articles in peer-reviewed journals since 2003. "I felt like there were some practical things that I can bring to the classroom, and hopefully I'm still doing that. The research is something I was surprised that I was decent at, and I got consistently better as I practiced and did more work."
Richey's research focuses on international business, logistics distribution, disaster recovery, big data analytics, marketing strategy, and company transparency.
"The issue for us, as business people, is not so much as to be transparent, but for what to be transparent about and what not to be transparent about," he explained. "There are some things that you shouldn't be sharing, like customer information, maybe your core competencies that you don't want other people to know so that you can maintain your identity."
Beyond the walls of Lowder Hall, Richey is senior editor at Decision Sciences Journal and serves on a number of editorial review boards. His influence is also felt overseas, where he holds an associate professorship at the University of Edinburgh, where he assists with research.