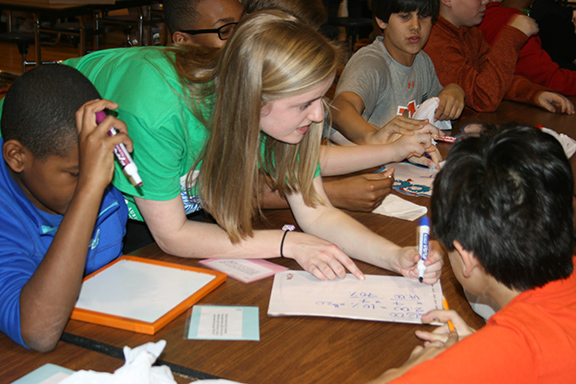 More than a thousand sixth-graders from Opelika and Drake Middle Schools will be given lessons on the basics of check-writing, budgeting and will gain a better understanding of the accounting profession on Friday, March 2, at the Auburn School of Accountancy's annual Financial Literacy Fair.
The fair -- which will be from 8:30 a.m. to 12:30 p.m. at the Auburn Student Center ballroom -- will be directed by more than 300 graduate and undergraduate accounting students.
"The purpose is for us to give middle school students an understanding of real-world issues that they are going to face," said Sarah Stanwick, Associate Professor in Accounting and Harbert College Diversity Officer. "We want them to be able to start thinking about these things, then go home that night and share with their parents what they've learned … Also, not to go out and buy that video game today that they're not going to play in two weeks."
Although the fair will be divided into a number of small group activities related to financial matters, including goal-setting and philanthropy, Stanwick said the day will be highlighted by two panel discussions. One session teaches children about college life from accounting students' perspectives. The other digs deep into debits, credits, and spreadsheets to get a better understanding of the accounting profession.
Similar fairs have taken place on the middle schools' campuses, but Stanwick said this is the first time children will come to Auburn University.
"So many of them have never been to our campus," said Stanwick, who hopes the fair will grow to more middle schools in the future. "We want to give them an idea about a college campus and plant that seed that college is a possibility for all of them."