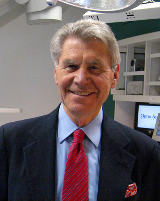 When John Brown joined Stryker Corporation as President and CEO in 1976, it was a small, family-owned business known for making hospital beds and stretchers. By the time he retired as Chairman of the Board in 2009, the company had grown from 400 employees and $17 million in annual sales to 17,000 employees worldwide and more than $6.7 billion in sales.
In taking Stryker public, achieving 20 percent net income growth on a consistent basis, and developing it into a global leader in medical and surgical equipment, neurotechnology, and orthopaedics, Brown became an example for other corporate leaders. Brown, who earned a chemical engineering degree from Auburn in 1957, was featured prominently in the Jim Collins book, "Great by Choice: Uncertainty, Chaos and Luck – Why Some Thrive Despite Them All." Collins, co-author Morten T. Hansen and a team of researchers analyzed the methods of companies that consistently beat their industry performance indexes a minimum of 10 times over 15 years despite uncertainty and unfavorable conditions. Collins described top managers like Brown as having a "20 Mile March" mentality, which mean they blend intelligence and discipline with specific and tough performance goals.
"John Brown understood that if you want to achieve consistent performance, you need both parts of a 20 Mile March – a lower bound and an upper bound – a hurdle that you jump over, and a ceiling that you will not rise above," Collins wrote. "The ambition to achieve and the self-control to hold back."
That blend of perseverance and purpose made Brown an ideal choice to be the first inductee into the Auburn University Entrepreneur Hall of Fame. Brown and other alumni who have succeeded as business leaders and innovators will be honored at a gala dinner hosted by Auburn University's Raymond J. Harbert College of Business on Friday, April 24, at 5 p.m. at The Hotel at Auburn University & Dixon Conference Center. Tickets to the black tie optional dinner are $100 apiece.
Presented by the Harbert College of Business as part of the first Auburn University Entrepreneurship Summit, the Hall of Fame gala will honor university alumni who have built companies from the ground up or helped them achieve unprecedented growth and success. Other awards include the Spirit of Auburn Family Entrepreneur Award, Entrepreneur of the Year, and Young Entrepreneur of the Year.
"Auburn University has built a remarkable legacy of entrepreneurs and industry leaders, from Main Street to Wall Street, from the one-person start-up to the highest valued company in the world," said Harbert College of Business Dean and Wells Fargo Professor Bill Hardgrave. "It is time to recognize, celebrate, reinforce and build upon this legacy."
Martin Sprocket & Gear Executive Vice Chairman Gary Martin will receive the Spirit of Auburn Family Entrepreneur Award for his role in the company's growth as a leader in such areas as machining, powdered metal technology, industrial hand tools, fabrication, forging, and casting. Martin, who earned an engineering degree from Auburn, began working with Martin Sprocket & Gear company right after his father established it in 1951 and served as vice president, president, and executive vice president during his tenure.
Harbert College will present Entrepreneur of the Year Awards to Delphinus Medical Technologies CEO Mark Forchette, Oskar Blues Brewery Founder and Owner Dale Katechis, and Iron Tribe Fitness Founder/CEO Forrest Walden. The college will present Young Entrepreneur of the Year Awards to Tailgate Guys/The Event Group Rentals CEO and President Parker Duffey, Wire Road Studios Owner and President James Kelley, and Back Forty Beer Company CEO Jason Wilson.
The Hall of Fame gala concludes the daylong Entrepreneurship Summit program, which will begin with the Tiger Cage student entrepreneurship competition and feature the Top Tigers awards luncheon for the fastest-growing firms founded, owned, or led by Auburn University alumni.