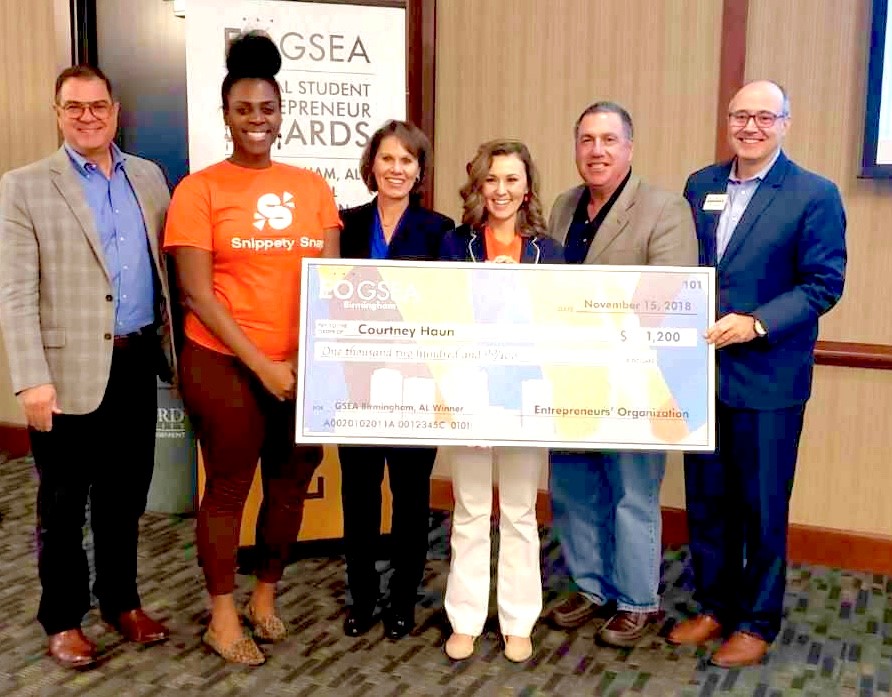 Olivia Cook and Courtney Haun, two finalists from last spring's Tiger Cage student business pitch competition, won first place and $1,200 at the Global Student Entrepreneurship Awards regional competition November 15 in Birmingham.
Cook and Haun, doctoral students in public administration and public policy, respectively, earned a bid into the GSEA national competition next January in Denver, Colorado.
The team, co-founders of "Snippety Snap," developed a public cell phone stand and integrated mobile app that allows users to take photographs in popular locations. The idea won favor with Tiger Cage judges – taking second place in the spring competition, where they won $10,000 in prizes and $10,000 more in donated services. Cook and Haun, and a number of other student entrepreneurs, continued to develop their business plans last summer, taking advantage of Harbert College's Tiger Cage Accelerator program, where they received daily input from faculty and business professionals.
"I am very excited for both Olivia and Courtney," said Scott McGlon, Entrepreneur in Residence at the Harbert College of Business. "They have a compelling business plan coupled with their persuasive presentation skills has proven to be a winning combination. By winning regionals, it gives the founders an opportunity to compete against some of the top startups in the country," said McGlon.
The last day to submit entries for the 2018-2019 Tiger Cage student business pitch competition is Friday, November 30. For more information, contact Lou Bifano, Director of Entrepreneurship Strategy at the Harbert College of Business.