Yichuan Wang, a Pd.D. student in Aviation and Supply Chain Management at Harbert College, is one of 13 finalists for the 2014 Best Paper Award presented by the 20th Americas Conference on Information Systems (AMCIS).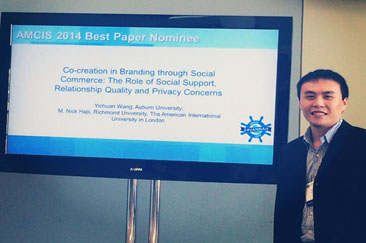 His co-authored research paper, "Co-creation in branding through social commerce: the role of social support, relationship quality and privacy concerns," proposes a new model of co-creation of branding through social commerce, making impressive, original contributions to research in the fields of marketing and information systems.
The paper, presented at the AMCIS at its Aug. 9 conference in Savannah, Ga., was one of 13 chosen by an academic selection committee over 419 other research papers. It was co-authored by Nick Hajli, Lecturer in Marketing and Degree Programme Director for the BSc in Marketing Programme at Newcastle University (U.K.) Business School.
"My presentation attracted much attention from famous international scholars in this field, and they discussed my research exhaustively," said Wang. "To me, it was great payoff of all the hard work I have put in."
The AMCIS is one of the leading international conferences for presenting the broadest variety of research done by and for IS/IT academicians in the Western Hemisphere. Each year its papers and panel presentations are selected from more than 700 submissions.
"Our paper provides insights into marketing and the brand management literature by understanding how the feature of social commerce regarding information sharing affects customers' co-creation intentions in branding," Wang said. "Particularly, this study incorporates social support and relationship marketing theories into the brand research to be the first study to empirically examine the relationships among proposed constructs in specific brand pages on the social networking site context."