Don Draper could only dream of using database marketing to better understand his clients. Instead, the central character on the hit TV show "Mad Men," set in the 1960s, relied on graphic designs, print advertisements and commercials to sell his clients' products.
Today, advertising agencies have access to information about their clients' customers and prospects. Who are they? Where do they live? What do they buy? How much do they buy? What is their best means of communication?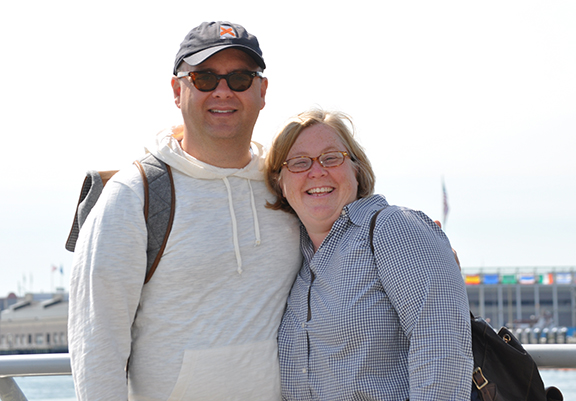 Lyn Knopf (pictured with her husband, Chris), who earned her undergraduate in finance in 1993 and an MBA in 1995 from Harbert College, digs deep into client customer demographics as co-founder and Director of Data & Analytics at Connexon Partners, a full-service marketing agency in Nashville, where she lives with her husband, Chris ('95 Building Science), and their children, Duncan and Evey. She has worked on projects for HSBC, BB&T, eTrade and Morgan Stanley to name a few, and currently is providing merger communications for several large banks, running a home equity acquisition program for a credit union and creating brand awareness focused on new customer acquisition for a child care business.
"Database marketing is the process behind organizing data (age, estimated income, marital status, etc.), digging through it to make sense of it, and turning it into something actionable," said Knopf, whose company's role varies from analytical work to web development, print advertisements and direct mail programs. "Most importantly, database marketing allows businesses to allocate marketing dollars to the audience that will be the best campaign performers, thus maximizing your ROI."
What can be done through database marketing? Firms can create targeted and personalized marketing campaigns focused on specific portions of a business' customer base, which can increase response and decrease costs. It also creates a better understanding of current customers, providing a detailed roadmap for business development by informing acquisition marketing efforts such as ad placement, prospect list purchase, sponsorships or event participation.
"My goal is to let the data tell me what is important and let it inform the marketing," said Knopf, who noted that "we believe at least 50 percent" of a campaign's success is due to targeting and audience. "Without a well-defined strategy and strong analytics, marketing dollars will be wasted when the target audience is missed."
Knopf, a Birmingham native who once wanted to become a veterinarian when she grew up, noted that program strategies must be implemented "so that objectives, goals, challenges and measures of success can all be addressed and agreed upon on the front-end."
"Budgets can be tight and there is continued pressure for marketing departments to prove their programs are working, show how they can be improved and to ensure they have an acceptable ROI," she added. "Database marketing on the front end contributes tremendously to program success because it refines the audience and stacks the deck favorably."
She uses much of what she learned in the classrooms at Lowder Hall in her career today. "Dr. (Achilles) Armenakis' Organizational Behavior class stands out because it really highlighted the importance of a thought-out strategy, whether it is for marketing, IT system implementation, succession planning, or product development," she said. "Because of the field that I am in, my graduate statistics classes are the ones that are often the most useful on a daily basis. This is surprising because these were not my favorite courses and I struggled. However, once I graduated and ended up in this field, I was so thankful to have that knowledge base."
Knopf worked as a marketing strategist at AmSouth Bank (now Regions), database marketing manager at BBVA Compass and was manager of analytical services at Harland Clarke Marketing Services before making the leap toward co-founding Connexon Partners with business partner Pam Eldridge.
"We recognized that many companies and even other agencies did not provide database marketing and analytical services," she said. "Today, roughly 30 percent of our clients are agencies and we are their outsourced strategy and analytics group.
"We like to say that we are a small agency with big agency experience and I think this really differentiates us. Over the years we've worked with some big names but with big agencies comes large overhead, higher prices and slower turn times. Our clients get to take advantage of our experience but benefit from working with a smaller company."
Moving forward, Knopf pointed that companies must continue to find ways to stand out. "Consumers are inundated with email, mailers, Facebook, sponsored Instagram ads and Twitter feeds," she said. "In many cases, the message and offer could be great, but it gets lost. Because of this, data-driven strategy, audience segmentation and truly actionable insights are only going to increase in importance. Companies need to be able to further personalize their marketing efforts and be top-of-mind when the customer or prospect is ready to buy."