He trained with West Point cadets and soldiers in Madagascar. He completed Air Assault School and an internship with the 5th Special Forces Group. So when Conner Morschauser spent nights studying past midnight at Auburn University's Ralph B. Draughon Library and be on time for mandatory 5 a.m. physical training … that came as no surprise.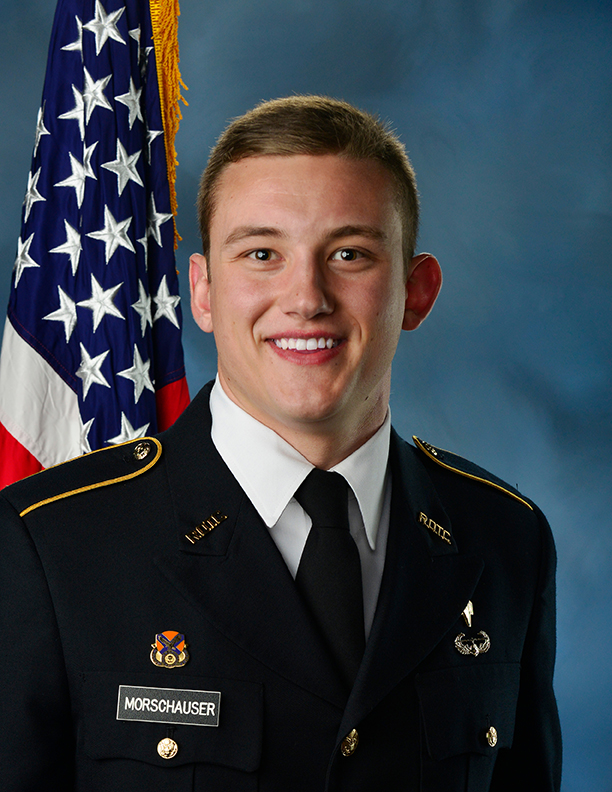 Morschauser, a senior in information systems management and active Auburn ROTC cadet, graduated May 4 with a 3.97 cumulative GPA. Upon graduation, the Cadet Battalion Commander will commission as a Second Lieutenant in the U.S. Army. His final mission as an Auburn University student was to carry the Harbert College of Business flag as marshal at graduation ceremonies.
Balancing ROTC demands and academics weren't easy, but Morschauser, from Leland, N.C., adapted. "Time management was something I had to focus on after the transition from high school to college," he said. "The increased academic standards mixed with the new ROTC requirements required discipline sticking to a schedule while maintaining a sound social life," he said.
But he wouldn't have it any other way.
"ROTC has helped me develop my organizational, decision-making, leadership and interpersonal skills through the mentorship of the cadre and the training experiences the program has provided me," said Morschauser. "Serving as the Battalion Commander has been especially rewarding and given me the opportunity to actively grow in my leadership skills daily. It has also made me a better job candidate by diversifying my resume from the experiences the program has provided to me."
Morschauser has enjoyed a decorated Auburn ROTC career, winning the USAA Spirit Award for exemplifying leadership and character throughout the program and in the community.
When initially choosing a major, Morschauser was torn between information systems management and computer science. "After researching both paths and talking to professors, Information Systems Management seemed to perfectly bridge the two paths for me," he said. "When I began pursuing this relatively new major, I quickly discovered that Auburn has been aggressively recruiting industry-leading researchers and professors to share their expertise with the study body.
"Information systems further differentiates itself from other majors by providing students with a baseline of both general business knowledge as well as technical computer skills. This major educates students on topics such as machine learning, artificial intelligence, and big data, all of which will have an increasing presence in the business world in the future.
"Harbert College has fostered an environment that allows students grow both academically and personally. The mentorship I received from my professors has greatly influenced and developed my organizational, managerial, and leadership skills and the interaction with fellow students has grown my interpersonal skills. Ultimately, the Harbert College experience has significantly increased my confidence and ability to engage in and successfully impact any future endeavor."