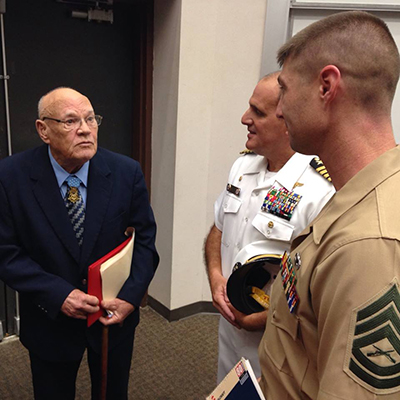 U.S. Army Command Sgt. Maj. Bennie Adkins saved American lives, killed an estimated 135 enemy Viet Cong soldiers, and suffered 18 wounds in a fierce three-day battle in 1966. Thursday night, the Medal of Honor recipient and former Auburn University accounting instructor, shared stories of battle and heroism before a standing-room only crowd at Lowder Hall.
"What I would like to say about the Medal of Honor is that I don't wear this Medal of Honor for myself," said Adkins, who recently accepted the award from President Obama in a White House ceremony. "I wear it for the other 16 individuals who were with me – 16 of the best trained Special Forces soldiers that you could have."
Thursday's event was part of the annual Raymond J. Harbert College of Business Aviation Management Advisory Board speakers' series, according to board president John McGraw.
"We have had great speakers in the past, but never this level of great American hero that we have tonight," McGraw said.
James Birdsong, an aviation lecturer at Harbert College and a retired U.S. Air Force officer, befriended Adkins six years ago. He recalled the day he walked into Adkins' Opelika home and witnessed a wall decorated with honors.
"The pictures and the awards on that wall are not the awards and decorations you normally see for most people who served in the military," he said, formally introducing him to the audience. "This man has seen a lot of combat. There was the Distinguished Service Cross, which is the highest award the Army can bestow on a soldier. There was the Silver Star, multiple Bronze Stars, and multiple Purple Hearts.
"He went back in the face of fire multiple times to get people off of the battlefield. Other Green Berets referred to him as the 'original bad (expletive)'."
Adkins, a member of the Army's Special Forces, told Birdsong he'd "had couple of rough days" in Vietnam. No wonder. His team was outnumbered 300 to 17.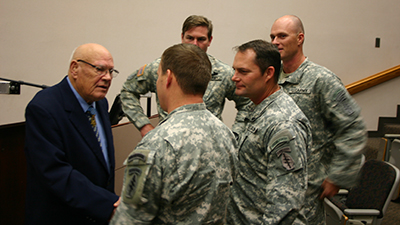 First, Adkins and his team endured a 38-hour battle before his camp at 'A Shau' was overrun by the Viet Cong. Next, with a handful of survivors, Adkins and his men worked to evade enemy pursuit through the Vietnamese jungle for 48 hours. They were exhausted, injured, threatened by a tiger, and also carried another wounded soldier by stretcher, not knowing if each breath would be their last.
"That night, the North Vietnamese had run us up on a little hill and it was a thick, heavy jungle," he said. "They had us completely surrounded, probably 10-15 meters around us but couldn't exactly decide where to shoot us."
Then the enemy troops disappeared.
"We got to looking, heard some noise, and here was a big tiger that smelled the blood on us and was circling," Adkins said. "The North Vietnamese soldiers were more afraid of the tigers than they were of us. So they backed off and we were gone again."
Adkins and his men avoided a conflict with the tiger and were soon airlifted out of the jungle to safety.
"All 17 of us there were wounded," Adkins said. "Most were injured multiple times in this battle. All were awarded some type of award of valor, making this probably the highest-decorated Special Forces team ever. From that battle, there were 17 Distinguished Service Crosses awarded and one Medal of Honor. I would like to attribute this (medal) not only to the other 16, but primarily the five that paid the ultimate price. He had five there that were fine soldiers and they paid the ultimate price so you and I can be here tonight to do what we desire in this great country of ours."