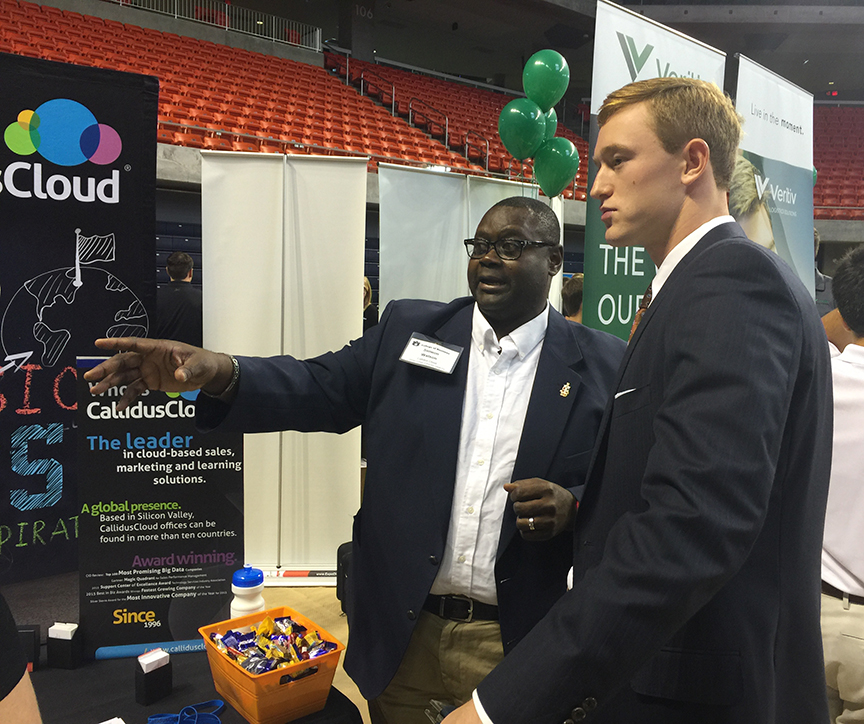 Recruiters from more than 60 firms will visit Auburn Arena on February 9 to meet students from all majors during the Harbert College Career Fair.
The career fair attracts more than 1,200 students each semester seeking full-time and internship opportunities. The event runs from 10 a.m. until 1 p.m.
"This fair gives students the opportunity to have contact with a wide variety of employers from many geographic areas in one place," said Alex Ritenbaugh, Employer Relations Coordinator in the Office of Professional and Career Development (OPCD). "We have about 60 percent of the employers looking for full-time jobs candidates, and many more looking for internship applicants, too."
For employers that are participating, this event is an opportunity to meet thousands of students in three hours, and also to interact with freshman who are learning networking skills for the first time.
"(Employers) get to meet many people in one touch," said Ritenbaugh. "Maybe more importantly, our employers can start to build relationships with younger students. One recruiter met a student as a freshman and has been checking up with that student for opportunities ever since."
All majors that are related to business are invited, so any Auburn student can attend this fair.
Event details are available on Auburn's career search portal, Handshake http://handshake.auburn.edu
"Come to the OPCD workshops, or watch the videos online, and interact with some professionals to get practice," said Ritenbaugh. "It's a very friendly atmosphere, but you will be less nervous if you prepare."
Another good piece of advice is to make a game plan.
Ritenbaugh recommends visiting the event on Handshake to narrow down the list of employers, and decide who to visit before the event. Also, have business professional dress ready to go on Career Fair day, since event attendees can have a free headshot for social media accounts.
"Look at Handshake, do some preparation work, and ask for help if you need it," said Ritenbaugh. "I understand this can be nerve-wracking, but don't let the suits stress you out."