"You believe in us. And that makes a difference in our Auburn experience and in our next steps after college. You believe we can change the world, so you step up and you invest in our hopes and dreams. I come before you today to tell you that the students of the Harbert College of Business appreciate you, we admire you, and most importantly, we are inspired by you."
- Mary Margaret Turton

These are the words of business analytics major Mary Margaret Turton, as she spoke to donors of the Harbert College of Business at the September 13 ribbon cutting for the formal opening of the new 100,000 sq. ft. business building named Horton-Hardgrave Hall.
It has long been said that Auburn is a special place. And that's true. At the heart of it all, Auburn is special because of its people. People who always come back and who always give back. People who subscribe to the Auburn Spirit, who make sacrifices, and who want nothing in return other than to relish in the fruits of a young Auburn person's success. In college. In business. And in life.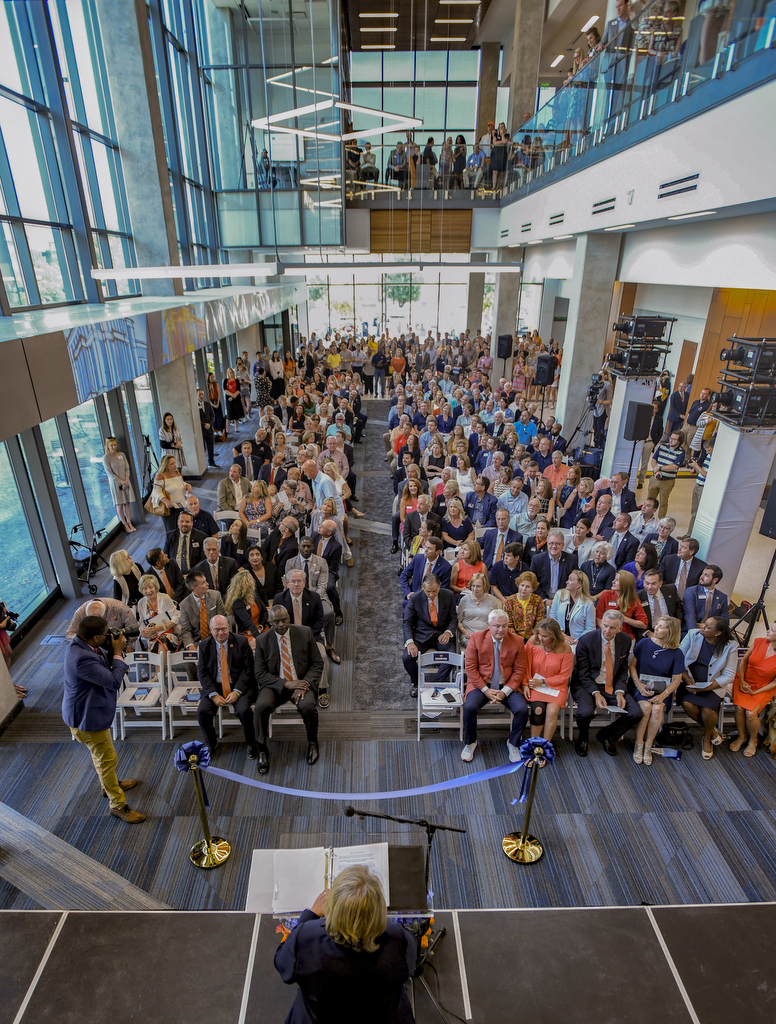 Horton-Hardgrave Hall Ribbon Cutting Ceremony
Paying it Forward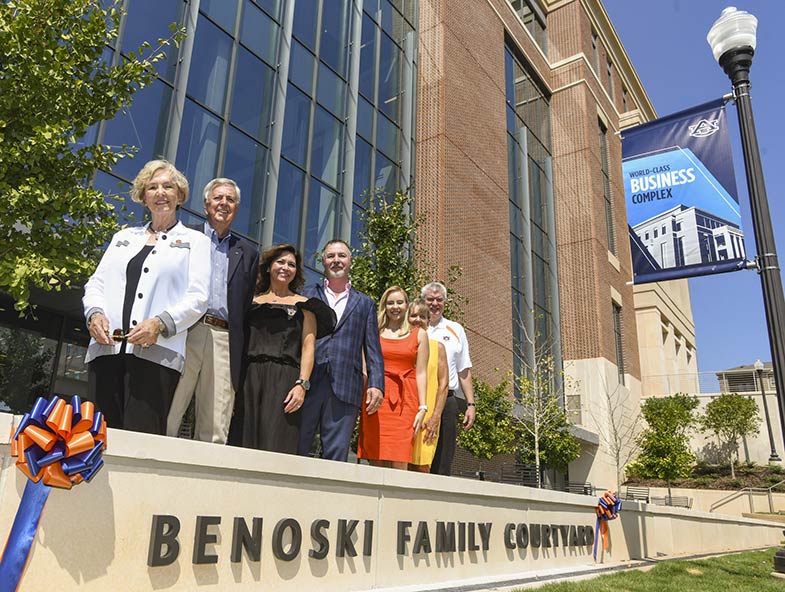 Benoski Family at Benoski Courtyard Dedication
Gavin and Hardgrave Celebrate
This embodiment of "paying it forward" was evident for all to see during the new building's grand opening ceremonies where iconic spaces in the new Horton-Hardgrave Hall were dedicated. The Benoski Family Courtyard, bordered to the north by concrete steps emblazoned with the Auburn Creed, the Gavin Rooftop Terrace with dramatic campus views, and the Broadway Event Space and Theater, which provides elite space for special events, lecturers and presentations.


"Bridge Builders"
A post event tour of the new building allowed guests to see further evidence of giving as they visited Team Rooms and Classrooms that carried the names Baker, Davis, Ferrell, Ingwersen, Klesius, Nix, Salanitri, and Sport.
Nix at the Beam Signing Ceremony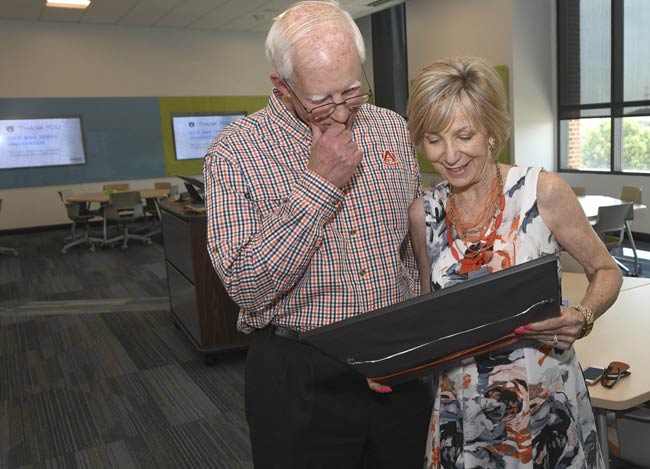 Ingwerson in the classroom
Auburn's donors are, as Raymond J. Harbert described them, "bridge builders". People who are willing to pave the way so that others can succeed.
In his ribbon cutting remarks, Mr. Harbert spoke from the heart to the overflow crowd and shared a poem that captured, at its core, why he gives. He took the time to read each and every word from a poem that he carries with him at all times, called the "Bridge Builder". A poem that ends with these lines:


The builder lifted his old gray head.
"Good friend, in the path I have come," he said,
"There follows after me today
A youth whose feet must pass this way.
This stream, which has been as naught to me,
To that fair youth may a pitfall be.
He too must cross in the twilight dim —
Good friend, I am building this bridge for him."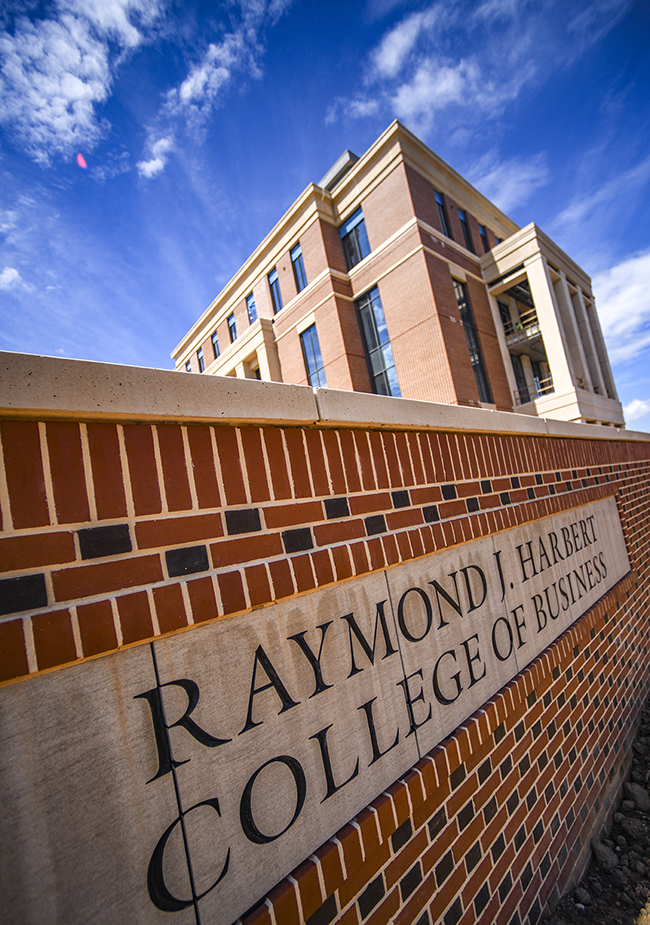 The words from this poem, which were written by Will Allen Dromgoole some one-hundred years ago, were delivered by Mr. Harbert, on a momentous day for a college that carries his name.
True to the sentiment of his talk, the investments the Harbert's have made in Auburn University have inspired others to give as well. As one alumnus and former Auburn classmate noted, "Raymond and Kathryn's transformative gifts to Auburn and the College of Business continue to elevate the college's national reputation and provide greater opportunities for students and faculty. Their passion to support elite business education at Auburn University is contagious."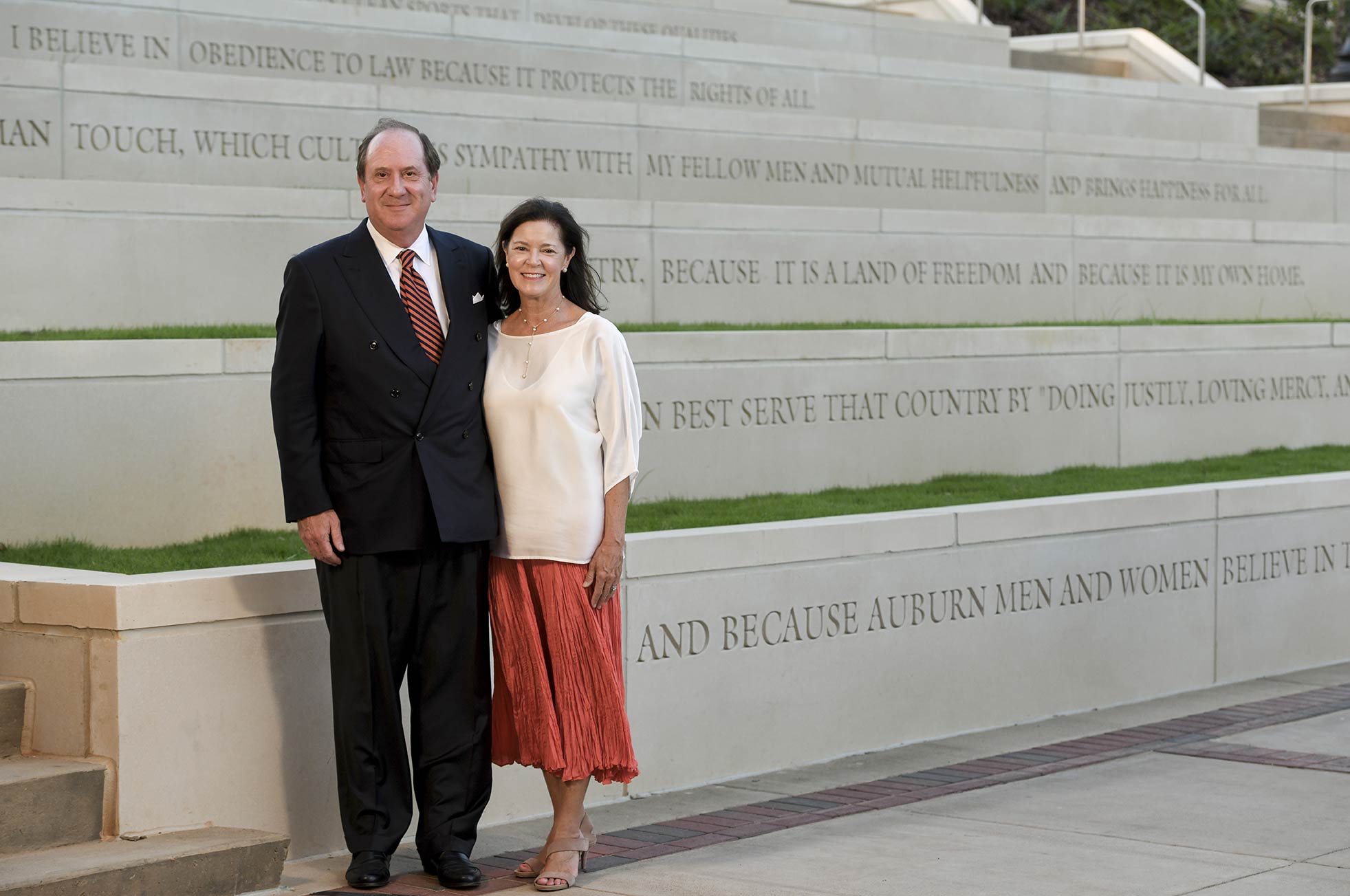 Mr. and Mrs. Raymond J. Harbert

September 13 was indeed a great day for Auburn University. It was a day in which the Harbert's, the Gavin's, the Benoski's, the Broadways, and all of our donors showed that they believe in our future and that they will do whatever it takes to help build a bridge to an academic world of opportunity.
As seen throughout the history of Auburn University, the only way to affect change is for someone to step up and take responsibility. That's what people like Raymond and Kathryn do every day. That's what all of our donors do. Auburn men and women don't sit back and wait for others to take action. They believe they can make a difference in this world and they act on that belief.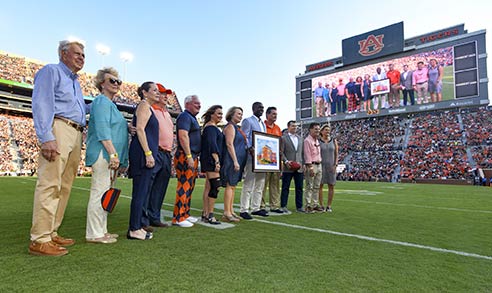 Donors join Dean Annette L. Ranft on the field at Jordan-Hare Stadium prior to the Sept. 14 game vs. Kent State.