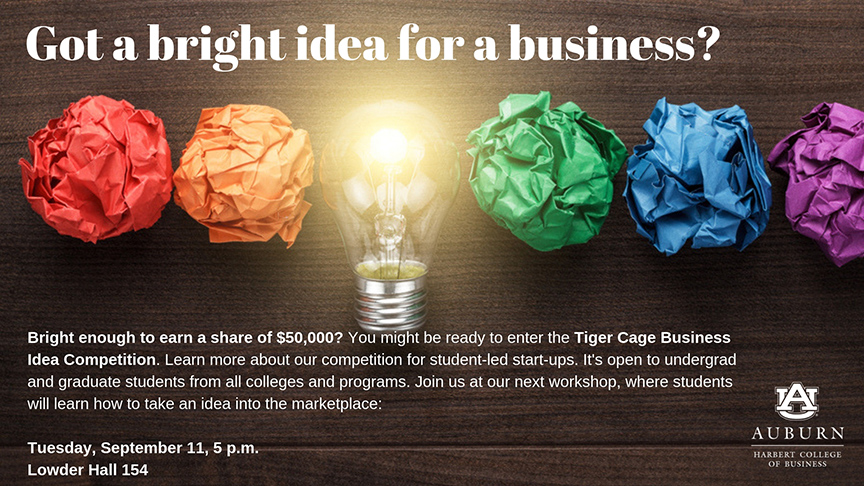 Auburn University students who have concepts for new businesses or products will soon have a chance to compete for shares of a $50,000 prize pool in the fifth annual Tiger Cage Business Idea Competition.
Hosted by the Harbert College of Business, Tiger Cage rewards the best early-stage startups, services or business concepts that emerge from Auburn University undergraduate and graduate students from all program areas.
Tiger Cage entrants will compete in multiple elimination rounds until four finalists are identified. The finalists will pitch their ideas to a panel of judges at the Auburn University Entrepreneurship Summit on March 29, 2019. The grand prize winner will earn $25,000, as well as in-kind services. Second place will earn $10,000, third place will receive $6,000 and the fourth place finisher will claim $4,000. A $1,000 People's Choice Award, voted on by event attendees, will also be presented.
Tiger Cage contestants will have access to faculty and alumni mentors as they advance through the competition.
Escape Therapy, a personalized electrotherapy garment developed by kinesiology doctoral students Sarah Gascon and Matt Hanks, and consumer and design sciences doctoral candidate Dawn Michaelson, earned the top prize in 2018. Previous winning concepts have included a mobile app-enabled parking management system, an apparatus aimed at extended the flight time and lifespan of aerostats and wearable technology aimed at reducing workplace injuries.
Upcoming Tiger Cage student workshops devoted to enhancing your entrepreneurial skills will be September 11 (From Idea to the Marketplace), October 16 (Keys to a winning business plan), November 7 (Making and effective presentation), and November 27 (Financing a startup), all in Lowder 154 from 5 to 6 p.m.
To learn more about Tiger Cage, visit: http://harbert.auburn.edu/entrepreneurship-summit/tiger-cage.php
Interested in competing? Complete our brief electronic survey and receive Tiger Cage updates via email: https://tinyurl.com/tigercage2019